Latvia provides a base for exiled independent Russian journalists
Comments
By Janis Laizans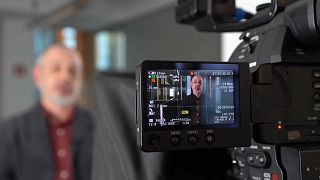 -
Copyright

Jolanta Liepina / Euronews
Russian authorities have been cracking down on the free press for many years, but after the invasion of Ukraine, this fight became especially fierce and fast. According to laws introduced there, anyone who calls what is happening in Ukraine a war must be held criminally liable.
"Already at the beginning of March, in the first days after the introduction of military censorship, the police came to us," remembers Denis Kamaliagin, Editor-In-Chief of Pskovskaya Gubernia. "The OMON came with weapons and scared all my interns who were at that moment in the editorial office. They threatened to send them to the battlefront the next day. The interns are young, military age. All our equipment was taken."
Denis Kamaliagin continues his work at the Riga-based Media Hub, which since the beginning of the war has provided assistance to more than 500 media workers from Ukraine, Belarus, but mainly from Russia.
In the first months of the war, the journalists working in Russia were invited to move to Riga by the Latvian Minister of Foreign Affairs. Deutsche Welle and BBC Russian Services, Washington Post and others have opened offices in Latvia. Leading Russian opposition media like Meduza, Novaya Gazeta, Current Times television and Radio Free Europe/Radio Liberty are also now based in Riga.
"We see Riga as a strategic location from which we can hear what Russians think, including those Russians that are in exile," says Elmārs Svekis, Head Of Office at Radio Free Europe/Radio Liberty. "We still have access to some of our journalists and colleagues who continue to work under quite a significant danger from Russia. And we're also targeting Russian-speaking audiences in Russia, in the CIS, but also in the European Union."
Fact-checking and investigative journalism
Fact-checking to disprove Russian propaganda messages as well as investigative journalism have become crucial genres.
In order to communicate with colleagues and informants in Russia, journalists use anonymous communication tools and social networks.
"The voices from Russia are heard," says Current Time journalist Timofey Rozhanskiy. "And it is very much needed that they are heard. And, of course, in a sense, we can become the voice of the people who remained in Russia, who do not agree with what is going on."
Although Russia actively restricts access to independent media and threatens those who read or view these publications, journalists are confident that the content they produce reaches a wide audience of millions in Russia.
"We know that during the past year," says Kirill Martynov, Editor-In-Chief of Novaya Gazeta Europe. "At the beginning of the war and at the time of the announcement of mobilization in September 2022, all independent media had a record number of viewers. People were very eager to understand, to figure out what was really going on."
For many journalists, moving from Russia to Riga was a hastily adopted temporary solution. However, they already sense that this temporary solution could be for a very long time, if not forever.