Novaya Gazeta: Leading Russian independent newspaper shuts down after warnings
Comments
By Euronews with AP, AFP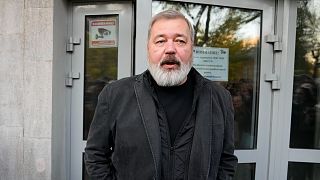 -
Copyright

AP Photo/Alexander Zemlianichenko
One of the last independent news outlets in Russia has announced it's closing down while the war in Ukraine is ongoing.
Novaya Gazeta said in a statement that they had received two warnings from Russian press watchdog Roskomnadzor, which put their operating license at risk, so they had decided to suspend activities.
The move comes at a time when Russian authorities are stepping up their pressure against critical and independent voices.
The paper says the warnings from Roskomnadzor are about being in breach of Russia's controversial "foreign agents" law.
Specifically, Novaya Gazeta was cited for not having specified an NGO mentioned in one of its articles was classed as a "foreign agent" by the Russian authorities, as required by law.
The "foreign agents" law is used against organisations critical of the Kremlin with the individuals labelled as such required to disclose it in their publications.
"There is no other way. For us, and I know for you, this is a terrible and painful decision. But we must protect each other," said Muratov, in a letter to the readers of the newspaper.
The newspaper received the first warning from Roskomnadzor on March 22, then a second on Monday.
Since the beginning of the war in Ukraine, Russia has cracked down on media at home, passing several laws imposing heavy prison sentences for spreading what the Kremlin considers to be false information about the "special military operation" in Ukraine.
Novaya Gazeta has published investigations into corruption and human rights violations in Russia for nearly 30 years.
Several contributing journalists have been killed, including Anna Politkovskaya — whose assassination in October 2006 was linked to the Kremlin due to her investigative work on crimes committed in Chechnya.
Novaya Gazeta's editor-in-chief Dmitry Muratov also received the Nobel Peace Prize in 2021 for his work under threats from Moscow.
The newspaper initially defied Russian reporting restrictions at the start of the war -- publishing in both Russian and Ukrainian -- but it was later forced to remove content under Russia's controversial law on so-called "fake news".
Anyone found guilty of internationally spreading "false" information about the Russian military and or other entities abroad faces up to 15 years in prison.
Muratov added that his staff had continued to work for 34 days "under conditions of military censorship" since the beginning of the Russian invasion.
The Kremlin also recently banned several Russian media from publishing an interview with Ukrainian President Volodymyr Zelenskyy.
"A country without media, without discussion, without political competition, without a full-fledged parliament," said Zelenskyy's adviser Mykhailo Podolyak.
On Twitter, the NGO Reporters Without Borders also reacted by calling on the authorities to stop their "censorship policies".
On Monday, Russia also cracked down further on two German media outlets, Deutsche Welle (DW) and Bild, over their coverage of the Ukraine war.
DW was itself placed on the list of "foreign agents" but have vowed to continue reporting for a Russian audience despite already being banned in the country earlier this month.
Meanwhile, the website of Bild was blocked on Monday following a request by Russian prosecutors.