College students hide in the dark after three people were gunned down at Michigan university
Comments
By Euronews with AP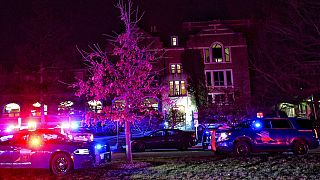 A gunman opened fire Monday night at Michigan State University, killing three people and wounding five more, before fatally shooting himself after an hours-long manhunt that forced frightened students to hide in the dark.
Police announced the man's death early Tuesday, four hours after shootings broke out at Berkey Hall, an academic building, and later nearby at the MSU Union, a popular hub to eat or study.
"This truly has been a nightmare we're living tonight," interim deputy chief of campus police Chris Rozman said.
Hundreds of officers had scoured the East Lansing campus, northwest of Detroit, for the suspect.
Rozman said the 43-year-old man was confronted by police off campus before killing himself with a "self-inflicted gunshot wound".
His name was not immediately released, nor were any details about the gun or what police found at the scene. Rozman said the man was not a student or employee and had no affiliation with Michigan State.
"We have no idea why he came to campus to do this tonight. That is part of our ongoing investigation," he said.
The shooting at Michigan State is the latest in what has become a deadly 2023 in the US. Dozens of people have died in mass shootings so far, most notably in California where 11 people were killed as they welcomed the Lunar New Year at a dance hall popular with older Asian Americans.
For more watch Euronews' report in the video above.