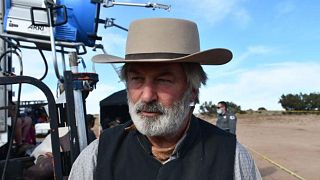 Prosecutors linked Alec Baldwin to an expansive list of alleged failures in firearms safety as they filed a felony involuntary manslaughter charge Tuesday (31 January) against the actor in the fatal shooting of a cinematographer on a New Mexico movie set.
Halyna Hutchins died shortly after being wounded during rehearsals on the film Rust at a ranch on the outskirts of Santa Fe on 21 October 2021. Baldwin was pointing a pistol at Hutchins when the gun went off, killing her and wounding the director, Joel Souza.
Baldwin and film-set weapons supervisor Hannah Gutierrez-Reed face charges of involuntary manslaughter in the death of Hutchins.
Baldwin and Gutierrez-Reed maintain their innocence and have vowed to fight the charges.
If found guilty, both Baldwin and Gutierrez-Reed could face up to 18 months in prison and a $5,000 (approx. €4,600) fine. 
In newly filed court documents, prosecutors say reckless safety failures accompanied the film production from the outset. They cite Baldwin's failure as an actor to appear for mandatory firearms training prior to filming and his decision as a producer to work with Gutierrez-Reed, who was an uncertified and inexperienced armorer.
A probable cause statement from investigators traces safety failures across a 10-day period from misfires on set and a camera crew walkout to the moments before Hutchins' death as a revolver was loaded with ammunition and Baldwin's finger came to rest on the pistol's trigger.
Baldwin was "distracted" talking to family members on his mobile phone during training on how to operate the prop gun, Robert Shilling, a special investigator for the district attorney's office, wrote in a statement of probable cause filed with the manslaughter charges.
"Baldwin's deviation from known standards, practices and protocol directly caused the fatal death of Hutchins," said Shilling.
Baldwin has previously denied responsibility for the shooting. He argued that he did not pull the trigger on the gun and that it had just "gone off", prosecutors alleged. But photos and videos from the Rust shooting depict the actor practising firing the weapon with his finger inside the trigger guard and on the trigger multiple times, prosecutors said.
Baldwin's attorney Luke Nikas declined to comment and referred to a previous statement in which he called the charges a "terrible miscarriage of justice" that he and his client would fight and win.
"Mr. Baldwin had no reason to believe there was a live bullet in the gun – or anywhere on the movie set," the statement said. "He relied on the professionals with whom he worked."
With charges filed on Tuesday, Baldwin and Gutierrez-Reed will be issued a summons to appear in court, possibly by remote webcast. Prosecutors will forgo a grand jury and rely on a judge to determine if there is sufficient evidence to move toward trial. A decision could take up to 60 days.