Rescue operations continue in Turkey and Syria, but the bodies are piling up
Comments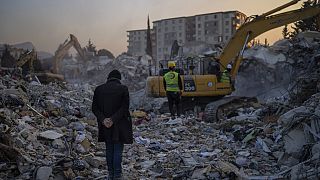 -
Copyright

Bernat Armangue/Copyright 2023 The AP. All rights reserved.
In Turkey, temperatures are dropping as quickly as hopes of finding any more survivors from last week's catastrophic earthquakes are fading.
By Monday morning, the confirmed death toll had reached more than 33,000, and this figure is expected to keep rising.
In the southern city of Kahramanmaras, a TV crew helped out rescue teams with a thermal camera --searching the rubble for signs of life. But the bodies are piling up.
Cranes and bulldozers are now being moved in -- a sign that search teams believe there is no one left to save beneath this pile of rubble.
The situation is equally desperate in the city of Hatay, which was almost completely destroyed by last week's 7.8-magnitude quake.
"After the earthquake, in the first three days, we heard sounds coming from the rubble, but now we don`t hear anything. Nobody is alive," said one resident. 
Syria 'rightly' feels abandoned
Over the border in Syria, a desperate lack of resources is proving detrimental to rescue efforts. Emergency relief officials at the UN say residents in the northwest "rightly feel abandoned."
"We have so far failed the people in northwest Syria. They rightly feel abandoned. Looking for international help that hasn't arrived," said United Nations aid chief Martin Griffiths on Twitter. 
Approval issues between the Syrian government and rebel-held territories are holding up aid deliveries - the hangover from twelve years of war proving difficult to shake.
"We haven't received any new equipment for the past 12 or 13 years as a civil defence force, not even torches," said the Head of Jableh's civil defence, Alaa Moubarak.
"We have nothing, if we had [the] equipment we could have rescued hundreds of victims or even more,"  he added.
Some UN aid has got through and Lebanon's powerful Shiite movement Hezbollah has sent a convoy of 23 trucks carrying food and medical aid to Syria's quake-hit port city of Latakia.
Officials say more aid is being sent to Aleppo and other affected regions.