Watch: Euronews International Correspondent Anelise Borges with a Turkish earthquake rescue team
Comments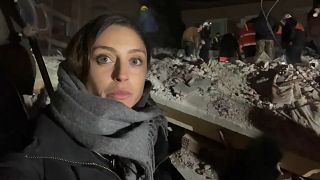 Against all apparent odds, the rescue teams in Antakya pick their way through huge mounds of rubble in perilous and seemingly endless missions. They are driven by the hope of finding survivors, five days after swathes of Turkey and Syria were hit by Monday's devastating 7.8 magnitude earthquake.
I was invited to accompany one such mission, and we were able to film as the Turkish team, many of them volunteers with no previous experience, shovelled and sifted through the rubble looking for signs, or sounds, of survivors.
See our film above
A five-story building had been reduced to a mound of concrete slabs and twisted metal, but for four hours the rescuers worked, convinced they had heard noises.
They called for silence in the street, straining to hear, hoping to be able to communicate with someone trapped below.
And then, at this crucial moment, a sudden cry from above ground: a warning a dam had burst outside the town. The rescuers scrambled to flee the scene.
But eventually they realised it was a false alarm. Turkish officials accuse looters of spreading misinformation, hoping to cash in on the ensuing chaos.
Alarm over, the search resumed with specialist equipment, and the assistance of family members who tried to explain the building's floor plan before the disaster.
Nurdan Yilmaz was among them.
She told us: "I am waiting for my brother, his wife and their children. I am hopeful, because there are survivors who left the rubble alive. I haven't lost my faith."
But for all the hopes and faith of family and rescuers alike, the mission was to end in sadness and despair as a body was recovered from the scene. It seemed the miracle they had hoped for wasn't meant to happen that night.
And the pain that was already immense grew just a little larger.
As if the wave of hurt and destruction submerging this country didn't want to recede.