Search for survivors as hundreds killed by earthquake in Syria
Comments
By Euronews with AFP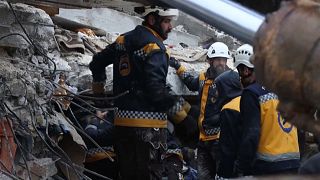 At least 783 people were killed and 2,280 injured in Syria on Monday, after a 7.8 magnitude earthquake struck neighbouring Turkey, state media and a medical source said.
AFP correspondents in northern Syria said terrified residents ran out of their homes after the earthquake hit before dawn near the Turkish city of Gaziantep, about 40 kilometres from the Syrian border.
The quake killed at least 239 people and left at least another 648 injured in government-controlled parts of Syria, including the cities of Aleppo, Hama, Latakia and Tartus, state television said.
In rebel-held parts of the northwest of the country, at least 147 people were killed and more than 340 were injured, according to rescue workers.
"The toll may increase as many families are still trapped," the White Helmets rescue group, which operates in rebel-controlled areas of the war-torn country, stated on Twitter.
"Our teams are on the ground searching for survivors & removing the dead from the rubble," it added.
Rescuers rushed to probe for survivors under the rubble of collapsed buildings in the pouring winter rain.
In Aleppo alone, 24 people died and 100 were injured when 20 buildings collapsed in the province, the official news agency SANA had said, quoting an official.
Even before the tragedy, buildings in Aleppo, Syria's pre-war commercial hub, often collapsed because of the dilapidated infrastructure. After more than a decade of war, there has been little oversight in terms of ensuring the safety of new construction projects, with some being built illegally.
SANA said the earthquake was felt from Latakia on the Mediterranean coast, to Damascus.
"This earthquake is the strongest since the National Earthquake Centre was founded in 1995," Raed Ahmed, who heads the centre, told SANA.
Near the border town of Azaz, an AFP correspondent saw rescuers pull survivors as well as five bodies from the rubble of a three-storey building that had collapsed.
Deaths were also reported in northern Syrian areas controlled by pro-Turkish factions.
"We have been working on rescuing survivors and recovering the dead from under the rubble" in the regions of Azaz and Al-Bab, Omar Alwan, the medical response coordinator for the area, told AFP.
Dozens of rescuers and residents had toiled in the darkness, using flashlights to look for survivors in the rubble.
In Azmarin on the Turkish border, at least 10 buildings had collapsed, an AFP correspondent in the town reported.
The earthquake hit near Gaziantep in southeastern Turkey at 04:17 am (0117 GMT) at a depth of about 17.9 kilometres, the US Geological Survey said.
Tremors were also felt in Lebanon and Cyprus, AFP correspondents said.