US shoots down suspected Chinese surveillance balloon off Carolina coast
Comments
By Euronews with AP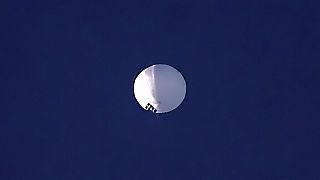 -
Copyright

Larry Mayer/AP
The US  has downed a suspected Chinese spy balloon off the Carolina coast after it traversed sensitive military sites across North America and became the latest flashpoint in tensions between Washington and Beijing.
The balloon was downed by Air Force fighter aircraft, according to two officials who were not authorised to publicly discuss the matter and spoke on condition of anonymity.
President Joe Biden had told reporters earlier Saturday that "we're going to take care of it," when asked about the balloon. The Federal Aviation Administration and Coast Guard worked to clear the airspace and water below the balloon as it reached the ocean.
Television footage showed a small explosion, followed by the balloon descending toward the water. US military jets were seen flying in the vicinity and ships were deployed to mount the recovery operation.
Officials had aimed to time the shoot-down so they could recover as much of the debris as possible before it sank into the ocean. The Pentagon had previously estimated that any debris field would be substantial.
US Secretary of State, Antony Blinken, was due to visit Beijing on Sunday for talks aimed at reducing US-China tensions, the first such high-profile trip after the countries' leaders met last November in Indonesia. But Washington suddenly cancelled the trip after the discovery of the huge mysterious air balloon.
China has played down the cancellation of the high-stakes visit.
"In actuality, the US and China have never announced any visit, the US making any such announcement is their own business, and we respect that," China's Ministry of Foreign Affairs said in a statement Saturday morning.
China claims the balloon was merely a weather research 'airship' that had blown off course but the Pentagon rejects China's claims.
The balloon was spotted on Friday over the State of Montana, which is home to one of America's three nuclear missile silo fields at Malmstrom Air Force Base, defence officials said.
The Pentagon also acknowledged reports of a second balloon flying over Latin America. "We now assess it is another Chinese surveillance balloon," Brig. Gen. Pat Ryder, the Pentagon's press secretary, said in a statement.
China's Ministry of Foreign Affairs did not immediately respond to a question about the second balloon.
Watch the video in the player above