Russian immigrants prepare for Orthodox Christmas in Serbia
Comments
By Euronews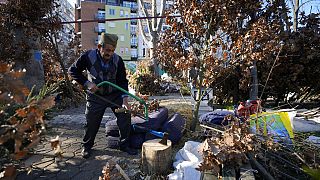 -
300,000 Russians have migrated to Serbia since Moscow's invasion of Ukraine began almost 11 months ago
This year Russian immigrants are getting into the festive spirit ahead of Orthodox Christmas day which is celebrated on January 7th.
The holiday is typically a low-key affair in Russia, but in Belgrade, preparations are in full swing.
"It will be something new. But we have face time and of course, we will call them, our families. But it's sad, to be so far away from our families and that's the reality of emigration, unfortunately," said Yulia Slavina, a Russian citizen in Belgrade.  
Many have complained that plane tickets are too expensive this year for loved ones to make the trip.
But those lucky enough to travel are gearing up for an unseasonably warm Christmas.
"This is rather unusual for me that there is no snow at all, of course, and a rather warm weather, because in St. Peterburgh now it's minus 10 (degrees Celsius)" said Ekaterina Kunickaya, another Russian woman living in Belgrade.
In short-sleeved T-shirts, these settlers are enjoying the warm front sweeping across central Europe and the Balkans.
Temperatures are set for a mild 12 degrees this weekend, with snow not forecast in Belgrade until January 23.
Watch the video in the player above.