Central Europe records unseasonally high, record-breaking temperatures
Comments
By Euronews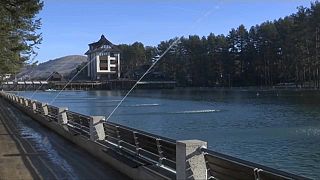 Zlatibor in Western Serbia, normally a popular ski resort, is now basking in unseasonally high temperatures with records broken elsewhere across Central Europe in the past few days. 
On December 30th, 31st and January 1st, the capital Belgrade recorded its highest-ever temperature for the period reaching 18.2°C on New Year's Eve alone. 
Climatologist Vladimir Đurđević says Serbia is currently in the first phase of climate change and the general trend of record-breaking warm temperatures is set to continue.
He predicts that this year or the next will probably be the hottest on record, and that average global temperatures will also continue to rise over the next three years.
"The years 2016, 2019 and 2020 are currently the three warmest years, but in the next three years we can expect to break that record," explained Đurđević.
"A warmer planet brings more extremes and extreme events such as floods, droughts, wildfires and severe storms. When we look at the planet, we see that there are more and more of these extremes. 
"The last year is a good example of that because floods and fires caused not only great material damage but also took human lives" he added.
Bosnia hosted the winter Olympics in 1984. Now its ski slopes are barren. 
Hotels are being forced to slash prices to try to attract customers, while also laying off staff. 
On the Vlasic Mountain ski resort, near the central Bosnian town of Zenica, tourists are leaving early amid spring-like temperatures and no snow. 
Tourism authorities in parts of the country are looking at declaring a natural emergency.
But it's not just human activity that's having to adjust. In one Austrian forest, trees are already in bud.
Warm temperatures in winter have an impact on nature, agriculture and human health.
When buds start to appear early they have no defence against the cold if it hits later on. The warm winter also means there are more pests in the forests, such as ticks. 
"It is important that it is cold in the winter. Firstly, so that few pests survive and secondly so that the trees are not disturbed in their resting phase" said Hubert Hasenauer, head of the Institute of Forestry at the University of Natural Resources and Life Sciences in Vienna.
Plant life is particularly vulnerable as flora in these regions usually spends the winter under a protective cover of snow.