Makiivka: Russia blames its own soldiers' mobile phone use for deadly Ukraine missile strike
Comments
By Euronews with Reuters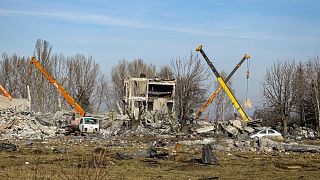 -
Russia's defence ministry on Wednesday blamed the illegal use of mobile phones by its soldiers for a deadly Ukrainian missile strike that it said killed 89 servicemen, raising the reported death toll significantly.
Moscow previously said 63 Russian soldiers were killed in the weekend attack -- but Kyiv claimed the death toll was much higher, with around 400 Russian soldiers killed and 300 more injured in the incident.
The defence ministry's reaction came amid mounting anger among some Russian commentators, who are increasingly vocal about what they see as a half-hearted campaign in Ukraine.
Most of the anger on social media was directed at military commanders rather than Russian President Vladimir Putin, who has not commented publicly on the attack which was another blow after major battlefield retreats in recent months.
The Russians said four Ukrainian missiles hit a temporary barracks in a vocational college in Makiivka, twin city of the Russian-occupied regional capital of Donetsk in eastern Ukraine.
Although an official probe has been launched, the main reason for the attack was clearly the illegal mass use of mobile phones by servicemen, the ministry said.
"This factor allowed the enemy to track and determine the coordinates of the soldiers' location for a missile strike," it said in a statement issued just in the early hours of Wednesday morning Moscow time. 
Ukrainian President Volodymyr Zelenskyy, who rarely comments on specific Ukrainian military strikes, made no mention of the attack in a video address on Tuesday in which he said Russia was set to launch a major offensive to improve its fortunes.
"We have no doubt that current masters of Russia will throw everything they have left and everyone they can round up to try to turn the tide of the war and at least delay their defeat," Zelenskyy said in a video address.
"We have to disrupt this Russian scenario. We are preparing for this. The terrorists must lose. Any attempt at their new offensive must fail," he continued.
Ukraine's military has said it launched a strike that resulted in Russian loss of equipment and possibly personnel near Makiivka. But it has given no further details.
Russian nationalist bloggers and some pro-Russian officials in the region put the Makiivka death toll in the hundreds, though some say that those estimates are exaggerated.