Kyiv and Moscow at odds over death toll in Makiivka attack
Comments
By euronews with AP, AFP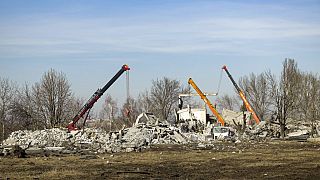 -
Copyright

AP/Copyright 2023 The AP. All rights reserved
Daylight revealed the devastating damage done to the building in Makiivka hit by Ukrainian missiles. The Kremlin said 63 Russian soldiers died in the attack in the Donetsk region. Ukraine later took credit for the hit, and claimed the toll was much higher.
"The losses of the enemy amounted to about 500 soldiers either wounded and dead," said Andrii Kovalev, a spokesperson for the General Staff of the Armed Forces of Ukraine.
But even the figure acknowledged by Moscow makes it one of the deadliest single strikes suffered by Russia in the war. The claims however have not been independently verified. 
Work is now underway on the remains of the building, where workers hope to unearth the true death toll.
Makiivka strike draws criticism in Russia
The news of the loss of Russian troops has not gone down well back home. 
"Ten months into the war, it is dangerous and criminal to consider the enemy a fool who does not see anything," said Andrei Medvedev, deputy speaker of the Moscow city legislature.
The Samara governor, Dmitry Azarov, said that among the victims were residents of his region, adding that a hotline was set up for their relatives. It is believed many of the troops were called up to fight after Russia's 'partial mobilisation' announcement in September 2022.
 Mourners also gathered in Samara to commemorate those who were lost in the attack.
No respite in 2023
The fighting remains intense and unrelenting in many frontline zones. In Bakhmut, in the Donestk region, Russian troops continue to pound the eastern Ukrainian town. Ukrainian President Volodymyr Zelenskyy described the attacks on Friday as some of the most fierce fighting in the war. But neither side is believed to have made significant gains despite the ferocity of the combat.