Moscow at odds with Russian war reporters and Ukrainian officials over Makiivka death toll
Comments
By Euronews with AFP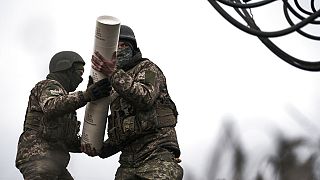 Copyright

Libkos/Copyright 2022 The AP. All rights reserved.

-
Increasingly influential Russian war reporters say hundreds were killed in an attack on a vocational school in Makiivka and have accused top military commanders of failing to learn lessons from their past mistakes.
"Ten months after the start of the war, it is dangerous and criminal to regard the enemy as a fool who sees nothing," said Andrey Medvedev, deputy speaker of the Moscow city legislature.
The governor of the Russian region of Samara, Dmitry Azarov, announced the opening of a telephone line for the relatives of soldiers who were killed, some of whom were his constituents.
On social media, some have accused Russian authorities of downplaying the death toll.
"My God, who is going to believe the number 63? The building has been completely destroyed," wrote a Russian, Nina Vernykh, on the main Russian social network VKontakte.
On this social network, Russians were invited to collect clothes, medicines and materials for survivors.
However, Russia's defence ministry maintained on Monday that the number of servicemen killed sits at 63.
Nevertheless, it has been registered as one of the deadliest attacks on the Kremlin's forces since the war began more than 10 months ago.
The announcement of this strike comes after a New Year marked by Russian bombardments on Kyiv and other cities on Saturday, Sunday and Monday, which left five people dead and dozens injured.
On Monday, Kyiv again came under fire from Iranian-made drones but Ukrainian forces said the majority were shot down.
Ukrainian President Volodymyr Zelenskyy has announced that his army has shot down more than 80 drones since the start of 2023. "In the near future, this number may increase," he said.
Watch the video in the player above.