Ukraine war: 'Deadly strike' in Kherson and Vatican apology
Comments
By Euronews with AFP, AP, Reuters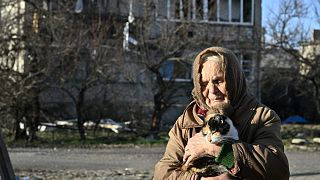 -
1. Two dead after Russian strike on Kherson, says Zelenskyy aide
Two people were killed in a Russian strike on Kherson on Thursday, according to the office of Ukrainian President Volodymyr Zelenskyy. 
"The enemy again struck the centre of the city, 100 metres from the building of the regional administration," said Kyrylo Tymoshenko, the deputy head of the Ukrainian presidential office, adding that two people had died in the attack.
The region's governor later stated that the city was left "totally" without electricity after the heavy rocket attack.
"At the first opportunity, the power industry will begin to restore power grids," Yaroslav Yanushevich wrote on Telegram.
Local authorities have previously claimed that Russian forces destroyed basic public infrastructure in the city before leaving.
Russian forces occupied Kherson and almost all of the wider region for around eight months after Moscow's full-scale Ukraine on 24 February.
Ukraine recaptured the southern city in November, but Russian forces have regularly targeted it in the weeks since their retreat to the eastern bank of the Dnipro river.
The city was bombed three times on Thursday, according to Ukrainian media. On Wednesday, the strike on the regional administration left six injured, according to the regional prosecutor's office.
Across the Kherson region, three civilians were killed and 13 injured on Wednesday, Tymoshenko said in a separate statement on Telegram. Explosions were also reported on Thursday in the eastern Ukrainian city of Kharkiv.
Russia has increased attacks on energy facilities in recent weeks, saying strikes on vital infrastructure are militarily legitimate and denying allegations that it has targeted civilians.
Ukraine's national grid operator Ukrenergo said the attacks had caused "significant" supply shortages for millions of people amid freezing winter temperatures. 
Zelenskyy has labelled the strikes on its energy infrastructure a "war crime".
2. Heaviest shelling reported in Donetsk since 2014, Moscow appointed authorities say
Russian-installed authorities have reported that at least one civilian was killed and nine others wounded on  Thursday in a Ukrainian strike on Donetsk.
Alexey Kulemzin, the head of the eastern city's Moscow-appointed administration, said Ukrainian troops fired 40 Grad rockets in the attack.
"At precisely 07:00 (am local time), they subjected the centre of Donetsk to the most massive shelling since 2014," he wrote on Telegram.
He added the rockets hit apartment buildings, offices, a church, a school, and a sports field.
According to the Donetsk Territorial Defence, the Ukrainian shelling left at least one person dead and nine injured, including a child.
Meanwhile, the head of Ukraine's military administration in the Donetsk region, Pavlo Kyrylenko, also reported on Thursday that two people were killed and four wounded in Russian shelling of Kyiv-controlled areas near Donetsk.
Donetsk has been targeted in missile strikes on several occasions in recent weeks amid intense fighting.
The region is one of four in southeastern Ukraine that was annexed by Moscow in September after so-called referendums that Ukraine and its allies have branded a "sham". None of the four regions is under complete Russian control.
The head of the UK Armed Forces has claimed that Russia faces a "critical shortage" of artillery shells and its ability to fight on the ground in Ukraine is "rapidly diminishing".
Meanwhile, NATO Secretary General Jens Stoltenberg recently suggested that Moscow wants to freeze fighting in Ukraine over the winter to build up its forces for a new assault in the spring.
"The Kremlin... is seeking to turn the conflict into a prolonged armed confrontation," a senior Ukrainian officer said, dismissing the possibility of a truce over the festive period.
On Wednesday, Kremlin spokesman Dmitry Peskov had said a Christmas ceasefire was "not on the agenda".
3. Vatican apologised for Pope Francis' comments, says Moscow
Russia said on Thursday that it had received an apology over Pope Francis' comments that some Russian minority soldiers were the "cruellest" fighters in Ukraine.
Moscow had formally protested to the Vatican after Francis' comments were published last month.
The Pope singled out ethnic Chechen and Buryat minority soldiers as the "cruellest" troops in his strongest criticism so far of Russia's invasion.
Moscow has been accused of disproportionately mobilising men for Ukraine from ethnic minorities in Siberia and the Caucasus.
But Russian foreign ministry spokesperson Maria Zakharova said Russia now considered the matter closed and hoped for a constructive dialogue in the future.
The Vatican has repeatedly stated that it is ready to do anything possible to mediate and put an end to the war.
Francis, for fear of antagonising the Russian Orthodox Church, has previously blamed "mercenaries" for the atrocities being committed in Ukraine, drawing criticism from the Kyiv government.
During his weekly general audience on Wednesday, Francis Francis called for "concrete gestures" of charity for Ukrainians this Christmas.
"It's nice to celebrate Christmas and have parties, but let's lower the level of Christmas spending a bit," he said. "Let's make a more humble Christmas, with more humble gifts, and let's send what we save to the people of Ukraine who need it."
On Thursday, the Vatican launched a joint-crowdfunding campaign with the Italian site eppela.com to send thermal underwear to Ukrainian residents.
4. Russia warns US of consequences over Patriot missiles
Russia's Foreign Ministry has warned the United States amid reports that Washington plans to deliver sophisticated air defence missiles to Ukraine.
Ministry spokesperson Zakharova said the delivery of Patriot surface-to-air missiles would be "another provocative move by the US" that could prompt a response from Moscow.
"[This] would mean even broader involvement of military personnel in the hostilities and could entail possible consequences," Zakharova said in a weekly briefing on Thursday.
"The US has effectively become a party" to the "special military operation" in Ukraine, she added.
The Patriot missiles would be the most advanced weapons the West will have provided to help Ukraine's military repel Russian aerial attacks.
Ukrainian leaders have urgently called for more robust weapons to shoot down incoming Russian missiles that have crippled much of the country's vital infrastructure.
On Tuesday, US officials said that Washington was poised to approve sending a Patriot missile battery to Ukraine. An official announcement is expected soon.
Concerns remain that, without proper training, the Patriot defence system could deploy missiles into Russian territory, risking a further escalation of the conflict.
White House and Pentagon leaders have said consistently that providing Ukraine with additional air defences is a priority, and Patriot missiles have been under consideration for some time.
Officials said that as the winter closed in and the Russian bombardment of civilian infrastructure escalated, that consideration took on increased priority.
5. Hundreds of civilians were executed at the start of the war, says the UN
The UN High Commissioner for Human Rights has claimed that hundreds of civilians were executed in Ukraine during the first months of the war.
Presenting a report to the UN Human Rights Council on Thursday, Volker Türk said the executions were "probable war crimes". Russia has always denied allegations.
The report documented the killings of 441 people -- including 28 children -- in three Ukrainian regions from 24 February to 6 April. All the executions took place in 102 towns and villages in the Kyiv, Chernihiv and Sumy regions.
"The true figures are likely to be higher and we are working to verify an additional 198 killings in these regions," the High Commissioner said.
"We have strong indications that these documented summary executions may constitute a war crime; intentional killing," Türk added.
"In some cases, Russian soldiers executed civilians in improvised detention facilities. Others were killed on the spot after a security check, at the entrance or inside their homes or in courtyards, even when the victims raised their hands and posed no threat."
Men and boys account for 88% of the total victims, he added, "suggesting that they were targeted primarily because of their gender".
In addition, Russian armoured vehicles were found to have fired on buildings, killing civilians in their homes.
UN investigators previously accused Moscow of committing a "considerable number" of war crimes in four Ukrainian regions in the first weeks after the Russian invasion.
Türk said on Thursday that further strikes on Ukraine's infrastructure could lead to "further serious deterioration in the humanitarian situation and spark more displacement".
6. Ukraine offers bonuses to loyal staff at Zaporizhzhia nuclear plant
Ukraine's atomic energy agency Energoatom is to offer higher bonuses to the employees at the Zaporizhzhia nuclear power station who remain loyal to Kyiv.
Europe's largest nuclear facility has been occupied by Russian forces since February but is still operated by Ukrainian staff.
According to Energoatom, Russian forces have told workers that they would not be paid after December if they did not sign new contracts with Russia's nuclear energy company, Rosatom.
"These statements are another shameless lie," Energoatom said in a statement.
"Energoatom continues to guarantee the payment of wages and all compensations provided for in the collective agreement to employees," it added.
"In addition, from January 1, Energoatom is also increasing from 20% to 50% the bonus for Zaporizhzhia personnel who stay loyal to Ukraine."
Russian President Vladimir Putin issued a decree in October transferring the Zaporizhzhia plant from Energoatom to a subsidiary of Rosatom.
According to Kyiv, Russia has positioned 500 soldiers at the Zaporizhzhia plant. The six-reactor facility has not been producing electricity since September.
Earlier this month, Energoatom dismissed the new director of the power plant for "betraying Ukraine and siding with the enemy".
Both Ukraine and Russia have accused each other of shelling near the facility, prompting fears of a nuclear disaster.
The UN's International Atomic Energy Agency (IAEA) has repeatedly condemned the "unacceptable" missile strikes near the plant and hopes to establish a security zone by the end of 2022.