Ukraine war: 'All drones' shot down over Kyiv; prisoner swap; and US missile decision
Comments
By Euronews with AP, AFP, Reuters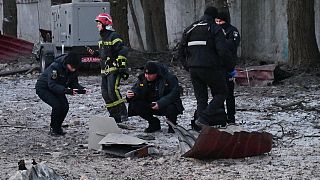 Copyright

SERGEI SUPINSKY / AFP

-
1. Ukraine shoots down 'all 13 drones' in latest Russian strikes
Ukrainian air defences shot down "all 13 drones" launched by Russia in new strikes on Kyiv and the surrounding area on Wednesday morning, President Volodymyr Zelenskyy said in a video.
Several buildings were damaged in the latest attack, but no casualties have been reported.
The national energy grid manager Ukrenergo said that Wednesday's strikes did not hit any facilities and also hailed the "brilliant work of the air defence forces".
Zelenskyy referred to the Russian drones as "Shahed", the Iranian-made so-called "suicide" devices used by Russia in many recent attacks.
Kyiv was targeted by "two waves" of attacks, the head of the Ukrainian capital's military administration Sergei Popko said in a statement on Telegram, adding that "shrapnel from downed drones hit an administrative building" in the central Shevchenkyvskyi district.
Four residential buildings were slightly damaged, Popko added.
Authorities said earlier that at least two administrative buildings had been hit in the latest attack after Kyiv's mayor Vitali Klitschko reported multiple explosions in a central district.
Air raid siren alerts sounded for about 20 minutes before the blasts.
Local residents have claimed that fragments from a drone contained the words "For Ryazan," a reference to a Russian military base that suffered damage last week.
Russian rockets also hit the regional administration building in Kherson on Wednesday, according to Ukrainian officials.
Ukraine's forces recaptured the southern city in November, but Russian forces have continued to shell Kherson since withdrawing to the eastern bank of the Dnipro River.
Ukrainian authorities said that during the last round of attacks on 5 December, more than 60 of 70 strikes were intercepted by air defence systems.
The barrage of recent Russian air strikes across the country has largely targeted infrastructure, knocking out electricity and water supplies for millions of Ukrainians
Fighting has also continued along the front lines in Ukraine's eastern and southern regions. Both sides claimed successes on Tuesday while stating that the situation on the battlefield in the Donetsk region was "difficult".
The eastern region was one of four that was annexed by Moscow in September after referendums that have been labelled a "sham" by Kyiv and its allies. None of the four regions is under Moscow's complete control.
On Wednesday, a regional Russian governor also claimed that the town of Klintsy -- in Russia's southern Bryansk region -- was shelled overnight by Ukraine
"As a result of the work of the air defence systems of the Russian Armed Forces, the missile was destroyed, and some parts hit the territory of an industrial zone," governor Alexander Bogomaz said on Telegram.
There were no reports of any casualties in Klinsty, which is located around 45 kilometres from the Ukrainian border.
2. US poised to approve Patriot missile battery for Ukraine
US officials are poised to approve sending a Patriot missile battery to Ukraine, agreeing to an urgent request from Ukrainian leaders.
The Patriot would be the most advanced surface-to-air missile system the West has provided to Ukraine to help repel Russian aerial attacks in the war.
Zelenskyy had pressed Western leaders again on Monday to provide his country with more advanced weapons.
During a video conference, Zelenskyy told G7 leaders that his country needed long-range missiles, modern tanks, artillery, missile batteries and other high-tech air defence systems to counter Russian attacks.
White House and Pentagon leaders have said consistently that providing Ukraine with additional air defences is a priority, and Patriot missiles have been under consideration for some time. But President Joe Biden has flatly rejected sending any US combat troops to Ukraine.
Former Russian President Dmitry Medvedev has warned NATO against equipping Kyiv with Patriot missile defences, and it is likely the Kremlin will view such a move as an escalation.
The United States has given Ukraine $19.3 billion in military assistance since Russia's invasion began on February 24.
US officials also said last week that Moscow has been looking to Iran to resupply the Russian military with drones and surface-to-surface missiles.
On Tuesday, more than 50 countries and international organisations at a conference in Paris pledged €1 billion in aid for Ukraine to keep the country in power and fed through the winter.
French foreign minister Catherine Colonna said some €415 million would be devoted to Ukraine's energy sector, while the rest of the funds will be channelled to Ukraine's health, food, water and transport sectors.
"Nobody is suffering as much from Russia's war as the Ukrainians - and we stand firmly by their side," German Chancellor Olaf Scholz told the European Parliament on Wednesday.
UNICEF also stated that Russian strikes on Ukraine's energy infrastructure are putting "almost every child in Ukraine -- nearly seven million children -- at increasing risk" as winter temperatures continue to plummet.
3. Dozens of prisoners of war released in latest exchange
Sixty-four Ukrainians and one American were reportedly released on Wednesday in a new prisoner exchange between Kyiv and Moscow.
Ukraine's presidency said the freed soldiers included those who had "fought in the Donetsk and Luhansk regions".
A US National -- identified as Suedi Murekezi -- "was also released," according to President Zelenskyy's chief of staff.
Russia has not yet acknowledged the prisoner swap.
Kyiv has previously stated that the exchange of prisoners would continue until the "last Ukrainian" had been freed.
Neither Russia nor Ukraine have released official figures on how many prisoners of war they have taken since the invasion began exactly nine months ago.
Zelenskyy said last month that Russia had freed 1,319 prisoners since March.
Meanwhile, the Kremlin said that no Christmas or New Year truce on the ground in Ukraine was currently under discussion.
"No proposal has been made by anyone, this subject is not on the agenda," spokesperson Dmitry Peskov told reporters on Wednesday when asked about the possibility of a pause in the fighting in Ukraine.
Ukrainian President Zelenskyy had called on Russia this week to start withdrawing its troops by Christmas as the first step towards a peace deal.
But Peskov said on Tuesday there would be no peace with Kyiv until Zelenskyy accepted Russia's new territorial "realities".
4. US charges seven suspects over Russian smuggling conspiracy
The US Department of Justice has charged five Russian nationals, including a security official, and two Americans over an alleged Russian government conspiracy.
The suspects are accused of illegally supplying Russia's defence sector with sensitive electronic components and munitions.
The group allegedly used front companies and a multitude of bank accounts to import the components, which are likely to have military use.
The goods, estimated to be worth millions of euros, were reportedly transported through Estonia, Finland, Germany and Hong Kong.
The seven suspects were "directed by the intelligence services" to work for two Russian companies for at least five years, according to a statement. The two companies were already sanctioned by the US in March over Russia's invasion of Ukraine.
Three of the suspects are in custody, including one awaiting extradition to Estonia, and four are at large.
They have been charged with fraud, conspiracy, smuggling, money laundering and violations of international sanctions and face 30 years in prison.
"The Department of Justice and its international partners will not tolerate criminal attempts to support the Russian war effort in Ukraine," United States attorney general Merrick Garland said in the statement.