Ukraine war: 'Fortification work' in Crimea; Zaporizhzhia strike; and '10 million without power'
Comments
By Euronews with AP, AFP, Reuters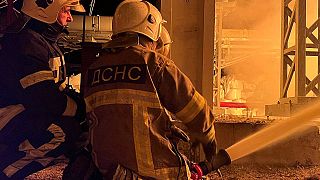 -
1. Moscow carries out 'fortification work' in Crimea
The Russian government says it was carrying out "fortification work" in Crimea, which Moscow annexed from Ukraine in 2014.
Sergei Aksionov, the Russian-installed governor said the work would be done to "ensure the safety of Crimeans".
It comes after Russian forces withdrew from the nearby city of Kherson last week after more than eight months of occupation.
Aksionov stressed that Crimea's security depended "mainly on measures to be implemented in the Kherson region".
Russia's pullback from Kherson has allowed Ukrainian forces to station weapons closer to Crimea, which has been targeted several times in recent months.
In October, the peninsula's main bridge was damaged in an attack that Moscow blamed on Ukraine.
Kyiv has repeatedly stated that it wants to retake the whole of Crimea and has now reopened a train line from Kyiv to Kherson.
2. Ten million without power after latest Russian strikes, says Zelenskyy
About 10 million people in Ukraine were without power following Russian strikes, Ukraine president Volodymyr Zelenskyy said in his Thursday evening video address. 
Russian missiles and shells hit several Ukrainian regions on Thursday, leaving at least seven people dead.
Ukraine's energy infrastructure was particularly targeted, from the capital Kyiv to the central city of Dnipro and Odesa in the south.
As the winter's first snow fell in Kyiv, authorities said they were working to restore power nationwide after Russia earlier this week unleashed the heaviest bombardment since it launched its full-scale invasion in February.
Kyiv mayor Vitali Klitschko said around half of the city's population faces regular power cuts as authorities switch electricity from one district to another.
A UN agency said a serious humanitarian crisis loomed, with millions facing "constant power cuts" as Ukraine's typically long, cold winter begins.
Zelenskyy added that authorities in some places ordered forced emergency blackouts.
"Russia is waging war on electricity and heating for people by blowing up power plants and other energy facilities," he said.
The Kremlin has stated that Ukrainian civilians are suffering from Kyiv's refusal to negotiate.
On Friday, Russia's Defense Ministry said the strikes were aimed at military and energy infrastructure, including a weapons depot "supplied by Western countries".
3. Death toll rises from Russian strike on residential building in Zaporizhzhia
There was no let up in heavy fighting in Donetsk in the east as Russian forces have been reinforced by troops from the southern city of Kherson city, which Ukraine recaptured last week.
Ukraine's military said Moscow's troops had fired artillery on the towns of Bakhmut and nearby Soledar. Moscow also claimed to have conquered the town of Opytene in the Donetsk region.
Russian fire also reportedly hit Balakliya in the northeastern Kharkiv region -- which Ukraine recaptured in September -- and Nikopol, a city on the opposite bank of the Kakhovka reservoir from the Zaporizhzhia nuclear power station.
Eight people, including energy crews and police, were injured trying to clear up the debris after overnight strikes in Kharkiv, according to governor Oleh Syniehubov.
Ukrainian prosecutors say ten people --including two children -- are now believed to have died after a Russian strike hit a residential building in the Zaporizhzhia town of Vilniansk on Thursday.
Meanwhile, Ukrainian forces had driven back Russian attacks on the town of Huliapole, to the east of the city, according to Ukrainian presidential adviser Oleksiy Arestovych.
Kyiv also claimed on Thursday that they had downed two cruise missiles, five air-launched missiles, and five Iranian-made Shahed-136 drones in the past 24 hours. The reports have not been independently verified.
Separately, Russia's defense ministry has accused Ukraine of "brutally" executing more than 10 prisoners of war.
Videos on social media purportedly showed the dead bodies of Russian troops, who had seemingly just surrendered. The footage has not been independently verified.
"The brutal murder of Russian servicemen is neither the first nor the single war crime," the ministry added on Twitter.
Ukraine's military has not responded to the allegations.
4. Sweden confirms Nord Stream gas pipelines were sabotaged
Swedish prosecutors have confirmed that explosions on the Nord Stream gas pipelines in September were acts of sabotage.
Investigators confirmed on Friday that traces of explosives were found at the damaged site in the Baltic Sea.
Swedish and Danish authorities have previously stated that leaks along the gas pipelines -- which link Russia and Germany -- were caused by four holes.
Denmark initially said last month that the damage had been caused by powerful explosions.
"The investigation is highly complex and comprehensive," the Swedish Prosecution Authority said in a statement.
"The ongoing probe will determine whether any suspects can be identified," it added.
Since Russia's invasion of Ukraine, the two pipelines have been at the centre of geopolitical tensions.
Russia's defence ministry says UK navy personnel were responsible for the damage. Britain has rejected the allegations.
Both pipelines were out of service at the time of the incident but contained large quantities of methane gas.
5. Russia 'hopeful of agreeing on a prisoner swap with the US'
Russia has hinted that it would agree on a prisoner swap with the United States involving Russian arms dealer Viktor Bout.
Nicknamed the "merchant of death", Viktor Bout was arrested in Thailand in 2008 and is currently serving a 25-year prison sentence in the United States.
But Russian Deputy Foreign Minister Sergei Ryabkov said on Thursday that negotiations on a swap were taking place "in a professional manner".
"I hope that the prospect [of an exchange] is not only alive but growing stronger and that the time will come when we will get a concrete agreement," Ryabkov was quoted as saying by Russian news agencies.
"So far we have not found a common denominator, but there is no doubt that Viktor Bout is among those involved in the talks, and we hope for a positive outcome," he added.
The remarks come as jailed American basketball player Brittney Griner was transferred to a Russian prison colony.
The 32-year-old was given a nine-year sentence on drug trafficking charges after vape canisters containing cannabis oil were found in her luggage at Moscow's Sheremetyevo Airport.
Griner says she had no criminal intent and had been prescribed cannabis to treat pain.
The US has said the case is politically motivated and has tried to negotiate her release, as well as Paul Whelan -- an American serving a 16-year sentence in Russia for espionage.
Russia has repeatedly criticised the US for making public statements about prisoner exchange negotiations, calling for them to be kept secret.
Human rights NGOs regularly report unsanitary conditions, abuses, and torture in Russian prisons.
6. Jailed Russian activist Vladimir Kara-Murza honoured with human rights award
An imprisoned Russian opposition activist has been awarded the highest honour by a United Nations human rights advocacy group.
Vladimir Kara-Murza was jailed in April under a controversial law that punishes anyone who intentionally spreads "fake news" about the Russian military amid the Ukraine war.
On Thursday, he was given the Morris Abram award by UN Watch, a Geneva-based organisation that promotes human rights.
Kara-Murza's wife, Yevgeniya, accepted the award on his behalf and read a letter from her husband during the ceremony.
The jailed activist said he dedicated the award to the thousands of anti-war Russian demonstrators "who have refused to stay silent in front of this atrocity, even at the cost of personal freedom".
"Since February, over 19,000 people were detained by police across Russia for anti-war protests," the letter said.
"The fastest-growing segment on Russia's political prisoner list are opponents of Putin's war on Ukraine," it added.
Kara-Murza was an associate of Russian opposition leader Boris Nemtsov, who was assassinated near the Kremlin in 2015. He himself survived poisonings in 2015 and 2017 that he blamed on the Kremlin. Russian officials have denied responsibility.
Kara-Murza now faces a possible prison sentence of up to 20 years for treason. He denies the charges.
Last month, the activist was also awarded the Council of Europe's Vaclav Havel Human Rights Prize.