Ukraine war: Russia tightens security on Crimea bridge after huge blast
Comments
By Euronews with AFP/AP/Reuters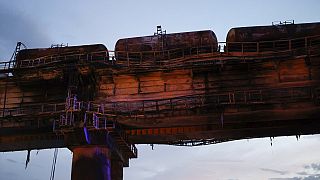 -
Copyright

AP/Copyright 2022 The AP. All rights reserved.
Russia has tightened security on its controversial Crimea bridge, after a huge explosion on Saturday caused it to partially collapse.  
Vladimir Putin ordered the Russian Federal Security Service (FSB) to oversee the rail and road bridge linking Russia and Crimea, a symbol of Moscow's annexation of the peninsula.  
No one claimed responsibility for the blast that killed three. 
Russian divers examined the damage left by the explosion on Sunday, which caused one section of the road bridge to fall into the water. 
Destroyed parts of the bridge were removed by Russian officials, who immediately began repairs and got traffic moving again by Saturday evening.  
The incident -- coming one day after Putin's birthday -- has dealt Russia a stinging blow. The bridge is an important supply route for the Russian military fighting in Ukraine and a symbol of its power in the Black Sea region. 
Russia attributed the explosion to a truck bomb. It did not assign blame, but Russian-backed officials in Crimea denounced Ukrainian sabotage.  
"The situation is manageable - it's unpleasant, but not fatal," Crimea's Russian governor, Sergei Aksyonov, told reporters. "Of course, emotions have been triggered and there is a healthy desire to seek revenge."
Divers were surveying damage sustained to the bridge below the water line on Sunday. Results of their inspection were due by the day's end. 
The crossing is a pair of road and rail bridges that Russia built after it seized and annexed Crimea from Ukraine in violation of international law in 2014.
It was completed four years later in 2018 at great expense to Moscow, with Putin claiming it "proved" Russia's ability to carry out large-scale projects.   
Ukrainian officials joked and mocked the explosion, without directly claiming responsibility. 
They have threatened to strike the bridge in the past, demanding that Russian forces leave the Black Sea peninsula, besides the areas Moscow seized since the start of the invasion in February. 
The reaction of Ukrainian officials provoked the ire of their Russian counterparts, with Russian foreign affairs spokeswoman Maria Zakharova saying Ukraine's response showed its "terrorist nature". 
The bridge is a major artery for the Russian army fighting in Ukraine's southern Kherson region and for the Russian naval port of Sevastopol. 
While it would "not affect army supply very much", Kirill Stremousov, the Russian-installed deputy administrator of the Kherson region, said there would be logistics problems in a social media post.
Damage to such a high-profile structure comes amid a series of battlefield defeats for Russia.
It casts further doubt on whether Russia's war in Ukraine is going to plan, with the Kremlin previously claiming that there was no risk to the bridge, despite Kyiv's threats.
"Conceivably the Russians can rebuild it, but they can't defend it while losing a war," said political analyst James Nixey of the UK's Chatham House think tank.
At least three people are reported to have been killed in the explosion, with Russian investigators saying they were two passengers of a car passing by and the driver of the truck.
The blast sparked a fire on an adjacent railway bridge and oil tanker trains were engulfed in flames. 
CCTV footage shows a white truck driving along the bridge in the early hours of Saturday morning and then a large explosion. Criticism has been raised in Russia about how the truck could pass through state-of-the-art security controls, with Russian war bloggers calling for retaliation. 
In the southeastern Ukrainian city of Zaporizhzhia, a Russian missile attack killed at least 12 and hospitalised 49, regional governor Oleksandr Starukh said on Sunday.
A nine-storey building was partially destroyed, five residential buildings levelled and many more damaged in a dozen attacks, according to Starukh.
Ukrainian President Volodymyr Zelenskyy did not refer to the blast in his nightly video address on Saturday, highlighting only the weather in Crimea.
"But however cloudy it is, Ukrainians know ... our future is sunny," he added. "This is a future without occupiers, across our territory, particularly in Crimea".
Zelenskyy adviser Mykhailo Podolyak said the incident was just the "beginning", blaming infighting between Putin's circle and alleging the blast was caused by Russian operators. 
Russia has opened a criminal investigation in connection with the incident, with some Russian lawmakers urging Putin to upgrade the "special military operation" in Ukraine to a "counterterrorism operation".
This would allow the Kremlin to broaden the powers of security agencies, ban rallies, tighten censorship, introduce restrictions on travel and expand the partial military mobilisation that Putin ordered last month.
In 2019, Putin inaugurated the huge railway bridge -- the longest in Europe -- saying it "proved" Russia's ability to carry out large-scale projects. 
He said that 14 million passengers and about 13 million tons of cargo were expected to move across the bridge the following year.
Several explosions have torn through Russian military installations on the peninsula in recent months. 
The Djankoi military base was devastated in August by a blast at an ammunition depot, which Russia eventually recognised as "sabotage".