Residents celebrate as Ukrainian army enters Kherson after Russian forces 'retreat'
Comments
By Euronews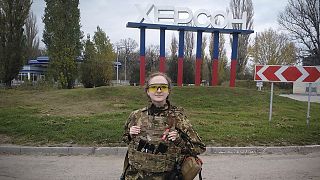 -
Ukrainian soldiers entered the key southern city of Kherson on Friday after Russian forces earlier said they had completed their retreat across the Dnipro River.
Review Friday's events as they happened in our blog below, or watch the latest news in the player above.
11.11.2022
14:51
In summary
Ukraine's army has entered Kherson, confirms Kyiv
Earlier, Russia said it had completed the withdrawal of its troops from the city
Images and videos on social media show the Ukraine flag being hoisted in central Kherson
Bridge from Kherson to Russian-occupied territory destroyed
Nova Kakhovka dam significantly damaged
Ukraine "in process of securing a major victory" -- think-tank
Moscow insists Kherson 'is still part of Russia'
11.11.2022
21:38
Ukrainians gather in Kyiv's Maidan square to celebrate liberation of Kherson
Dozens of Ukrainians, some refugees from Kherson, gathered for celebrations on the capital's main square that continued into the night. 
People popped bottles of champagne, sang the national anthem and shouted: "Glory to Ukraine". Some expressed surprise at the speed of events.
"I thought the Russian army would defend and there'd be a kind of siege like in Mariupol," the eastern port devastated in weeks of battle, said Andrey Trach, a resident of Odesa who works in Kyiv.
"It's a very significant day for Ukraine because it shows the entire world that Ukraine can and definitely will defend every square kilometer and inch of territory."
11.11.2022
21:37
Ukrainians gather in Kyiv's Maidan square to celebrate liberation of Kherson, in photos
11.11.2022
20:49
Moscow forces left behind 'lots of mines and explosives' in Kherson, Zelenskyy says
Russian troops left a significant number of "mines and explosives" during their withdrawal from Kherson, on "vital objects, in particular," Ukrainian President Volodymyr Zelenskyy said in a statement on his website on Friday.
Ukraine's leader also said that journalists' access to the key southern city liberated by Kyiv forces on Friday could not be ensured until "at least basic communications" are defined.
"We will restore all conditions of normal life - as much as possible," he said.
11.11.2022
20:40
Nova Kakhovka dam 'significantly damaged' during Russian retreat from Kherson, satellite images show
Significant new damage to the Nova Kakhovka dam in southern Ukraine can be seen following Russia's withdrawal from nearby Kherson city, US satellite imagery company Maxar said on Friday.
Maxar said images taken on Friday showed several bridges that cross the Dnipro river had also been damaged. 
"Satellite images this morning ... reveal significant new damage to several bridges and the Nova Kakhovka dam in the aftermath of the Russian retreat from Kherson across the Dnipro river," Maxar said in a statement.
It said sections of the northern extent of the dam and sluice gates had been "deliberately destroyed". Earlier this week, Russia accused Ukraine of shelling the dam.
Both sides have repeatedly accused each of planning to breach the dam using explosives, which would flood much of the area downstream and would likely cause major destruction around Kherson.
11.11.2022
20:32
French President Emmanuel Macron on Friday hailed "the return of Kherson to Ukraine, an important step towards the full restoration of its sovereign rights," after the liberation of the key southern Ukrainian city by Kyiv troops.
"France will continue to support Ukrainian men and women," the French president added on Twitter in Ukrainian.
11.11.2022
19:20
Bodies of civilians suspected to have been killed during Russian occupation found in Beryslav
Ukrainian security forces have found the remains of at least three civilians in Beryslav in the Kherson region, believed to have been killed during Moscow's occupation of the city, the Prosecutor General's Office said on Friday. 
The bodies were found in the basement of a residential unit and showed injuries to the skull, the office stated in a Telegram post.
"The remains of the victims were sent for a set of examinations, including DNA tests," the message said.
Beryslav, a city of some 12,000 before the February full-scale invasion, was liberated by the Ukrainian army on Friday. It is situated on the banks of the Dnipro river, some 76 kilometres northeast of Kherson.
11.11.2022
18:56
'Kherson is ours!' Zelenskyy hails recapture of city
Kherson is "ours", President Volodymyr Zelenskyy said triumphantly after Ukrainian troops entered the city.
"Our people. It's ours. Kherson," Zelenskyy wrote on Telegram, accompanying his short message with the blue and yellow Ukrainian flag. 
Here's a translation of his message:
"Today is a historic day. We are taking back Kherson. As of now, our defenders are on the outskirts of the city. But special units are already in the city.
"Kherson residents have been waiting. They have never given up on Ukraine. Hope for Ukraine is always justified - and Ukraine always returns its own.
"And even when the city is not completely cleared of the enemy presence - Kherson residents themselves are already removing Russian symbols from the streets and buildings and any traces of the occupiers' presence in Kherson.
"The same was in all other cities liberated by our defenders. The same will be in those cities that are still waiting for our return.
Ukraine will come to all its people.
"And I am grateful to every soldier and every unit of the Defence Forces who are ensuring the conduct of this offensive operation in the south.
Absolutely everyone - from privates to generals. The Armed Forces, intelligence, the Security Service, the National Guard - all those who brought this day closer for Kherson region."
11.11.2022
18:43
Where does Kherson withdrawal leave Russia's wider war?
The Kremlin has denied its withdrawal from the southern Ukrainian city is a failure -- instead calling it a "redeployment".
But the Institute for the Study of War says Ukraine now holds the initiative and is "in the process of securing a major victory in the region and in Kherson city".
Read more analysis and watch our correspondent Sasha Vakulina's explainer video here:
11.11.2022
17:23
Kremlin claims Kherson still 'a Russian subject'
Moscow still considers the entire Kherson region, including its capital, to be part of Russia despite the withdrawal of the Russian army, the Kremlin said on Friday.
Kherson and three other Ukrainian regions were declared to belong to Russia after local "referendums" were held in September – votes that were denounced by Kyiv and Western governments as illegal and coercive.
The Kherson region "is a subject of the Russian Federation," Kremlin spokesman Dmitry Peskov said. "There can be no change."
Read more in our overview of today's top developments from the Ukraine war here: