Ukraine war: Zelenskyy says Ukraine won't be 'intimidated' by Russian missile strikes
Comments
By Alasdair Sandford, Joshua Askew & David Mac Dougall with AP, Reuters, AFP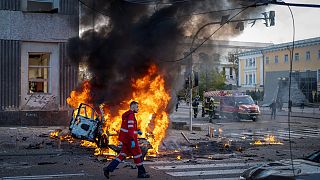 Copyright

AP Photo/Roman Hrytsyna

-
There's been international condemnation of Russia after Vladimir Putin ordered a wave of missile strikes across Ukraine on Monday morning, including against the capital Kyiv.
The strikes, the biggest and most widespread Russian attacks in months, are being seen as a major escalation by Moscow after a period of successful Ukrainian counteroffensives.
See a summary of Monday's developments in our blog below: 
10.10.2022
09:27
In summary
Volodymyr Zelenskyy says his country won't be "intimidated" by Russia following Monday's wave of missile strikes, which he said earlier had targeted Ukraine's energy system and its people
Missiles struck Kyiv and cities across Ukraine, from Lviv near the Polish border in the west to Zaporizhzhia in the south and Kharkiv in the east, killing at least 11 people and injuring dozens, Ukrainian authorities said
US President Biden promised to supply Ukraine with "advanced air defence systems" after a phone call with his Ukrainian counterpart, and Zelenskyy said "air defence" was his no1 priority
Leaders across Europe condemned the strikes. EU Commission President Ursula von der Leyen said they showed Russia's "terror and brutality"; EU Parliament President Roberta denounced Russian "war crimes"
Ukraine called Russia a "terrorist state" at the UN General Assembly on Monday night
Belarus announced the deployment of a "regional" military grouping with Moscow, President Lukashenko accusing the West of seeking to open a "second front" on its borders
Euronews' Natalia Liubchenkova, reporting from Kyiv, says a sense of anger is prevailing among locals
Vladimir Putin said the strikes were retaliation for the weekend explosion which damaged a bridge linking Russia and Crimea, vowing further action
Zelenskyy is to join a videoconference of G7 leaders on Tuesday
10.10.2022
22:47
Protestors in Warsaw accuse Russia of terrorism
Hundreds of people protested outside the Russian embassy in Warsaw on Monday, calling for Russia to be designated a terrorist state and for its diplomats to be expelled after missile strikes killed at least 11 people in Ukrainian cities.
Opposition to the Russian invasion is intense in Poland, with the country becoming one of Kyiv's staunchest supporters and taking in millions of refugees since the conflict started.
"All my family ... stayed in Ukraine and I don't know how I can support them," said Valeria Horna, a student from Kyiv who lives in Warsaw. "That's why I came to this meeting, simply to support Ukraine."
Protestors, many draped in the Ukrainian flag, brandished placards with the protest's slogan "Russia is a terrorist state."
"I demand that Russia be designated a terrorist state because... it is bombarding the innocent civilian population," said Monika Lowicka, a 40-year-old tax adviser.
A representative of the organisers, Euromaidan-Warszawa, put the number of protestors at around 2,000. A police spokesman declined to comment on how many people were present.
10.10.2022
22:31
UN publicly rejects Russia's call for secret vote on Ukraine
The UN General Assembly voted on Monday to reject Russia's call for the 193-member body to hold a secret ballot later this week on whether to condemn Moscow's move to annex four partially occupied regions in Ukraine.
The General Assembly decided, with 107 votes in favour, that it would hold a public vote - and not a secret ballot - on a draft resolution that would condemn Russia's "illegal so-called referenda" and the "attempted illegal annexation." Diplomats said the vote on the resolution would likely be on Wednesday.
Only 13 countries on Monday opposed holding a public vote on the draft resolution, another 39 countries abstained and the remaining countries did not vote. Russia had argued that a secret ballot was needed because Western lobbying meant that "it may be very difficult if positions are expressed publicly."
Moscow has moved to annex four partially occupied regions in Ukraine -- Donetsk, Luhansk, Kherson and Zaporizhzhia -- after staging what it called referendums. Ukraine and allies have denounced the votes as illegal and coercive.
The draft resolution to be voted on later this week calls on states not to recognize Russia's move and reaffirms the sovereignty and territorial integrity of Ukraine.
10.10.2022
22:18
Ukrainians in Rome demonstrate against Russia
Dozens of Ukrainians demonstrated in Rome on Monday following Russian multiple attacks on Ukraine.
They gathered in a location not far from the Russian Embassy in Rome shouting slogans criticising Russian President Vladimir Putin.
Many demonstrators are Ukrainians who fled their country since Russian invasion began last February.
10.10.2022
22:06
Biden promises Ukraine 'advanced air defence systems'
Ukrainian President Volodymyr Zelenskyy said on Monday that his country will not be "intimidated" by Russia's massive bombing raids, which have hit important energy infrastructure and left at least 11 people dead.
"Ukraine cannot be intimidated. It can only be united. Ukraine cannot be stopped," Zelenskyy said in a video posted on social networks, promising "even more painful" fighting for Russian troops on the frontline.
Later he said he had discussed air defence assistance with his US counterpart Joe Biden after the bombing of several Ukrainian cities, describing it on Twitter as a "productive conversation". "Air defence is currently the number one priority in our defence cooperation," he said.
The White House statement on the phone call said Biden "pledged to continue providing Ukraine with the support needed to defend itself, including advanced air defense systems". 
At an emergency UN General Assembly, Ukraine accused Russia of being a "terrorist state".
"Russia has once again proved that it is a terrorist state that must be deterred in the strongest possible way," Ukraine's UN ambassador Sergiy Kyslytsya told the session. 
10.10.2022
21:52
Attacks leave four dead in Dnipro
Several strikes on the central city of Dnipro on Monday killed four people and injured 19, local officials said. They also partially destroyed a telecommunications building and left a city bus charred and mangled beside a large smoldering crater in the street.
Bystanders said a rocket hit the telecommunications building in the western end of the city while another missed the target, landing just in front of a bus during morning rush hour.
Despite heavy damage to the bus, officials said no passengers had been killed.
The blasts broke windows out of residential buildings several hundred feet away and brought down power lines. The Dnipropetrovsk regional administration said 18 Russian rockets were fired at the region, five of which were taken down by air defense.
In an industrial area in the south of the city, Associated Press journalists saw at least three bodies covered with blankets near where a strike hit what appeared to be a commercial building.
Explosions were reported in Kryvyi Rih, a city in Ukraine's central Dnipropetrovsk region, that came under attack for a second time Monday. City governor Oleksandr Vilkul said the city was attacked by Iranian-built Shahed-136 drones.
The eastern city of Kharkiv was struck multiple times Monday morning, knocking out power in parts of the city.
Mayor Ihor Terekhov said that the energy infrastructure building was hit. There is no electricity and water in some of the districts of the city.
10.10.2022
21:40
Power blackouts deepen Ukraine's concerns before winter
The Russian missile attacks on Ukraine's power network caused blackouts in many parts of the country on Monday, deepening fears of outages this winter and prompting Kyiv to halt electricity exports.
Four regions were left temporarily without electricity, and supplies were disrupted in several other areas, the State Emergency Service said.
Authorities in Kyiv asked civilians and businesses to limit energy use, and the energy ministry said it was halting electricity exports to the European grid after the biggest attack on the energy system since the war began in February.
Long queues formed at petrol stations in some areas.
"It is clear now that most of the missiles hit the power systems of different cities," Kyrylo Tymoshenko, the deputy head of the presidential office, said on the Telegram messaging app.
He warned civilians that "you need to be prepared for the consequences of such shelling, up to rolling blackouts."
Power was later restored in Lviv in western Ukraine but it was not immediately clear when it would be fully back in the other regions without electricity - Ternopil in the west, Sumy in the northeast and Poltava in central Ukraine.
Kyiv city authorities called on residents and businesses to limit electricity consumption from 5 p.m. until 10 p.m. and urged owners of advertising signs to turn off their lights during this time.
10.10.2022
21:19
Belarus troops won't wage war in Ukraine — Defence minister
Belarus' Defence Minister Victor Khrenin has ruled out active participation in the war in Ukraine.
"We don't want to fight Lithuanians, or Poles, or Ukrainians," Khrenin said in a video statement Monday.
The remarks followed an announcement by the authoritarian leader Alexander Lukashenko that Belarus will host several thousand Russian troops. Lukashenko also warned Kyiv against attacking Belarus, despite the lack of any indication of an assault being planned.
Alexander Alesin, an independent Belarusian military analyst, says Belarus could host some 10,000-15,000 Russian troops, which together with its own military could form a joint force of up to 60,000. But, he argued, Minsk is not willing to deploy troops to Ukraine.
The Kremlin, according to some reports, wants its neighbour to host Russian nuclear weapons. Alesin said: "Iskander-M (missiles) have already been deployed to Belarus. They could be equipped with nuclear warheads with a capacity of 50 kilotons and a range of 500 kilometres."
The analyst said some Belarusian Su-24M bombers had been modified at Russian factories to carry nuclear bombs. But he added: "Minsk specifically stipulates that deployment of Russian nuclear weapons to Belarus would only be possible if (US) nuclear weapons are deployed to neighbouring Poland."
10.10.2022
20:11
Russia 'struggling to develop strategic military targets'
European security analyst Ed Arnold of the UK's Royal United Services Institute (RUSI) says that Russia's attacks on civilians and energy infrastructure suggests it is having trouble with munitions stocks, or its intelligence is "struggling to develop strategic military targets".
He also thinks a three-day delay in calling Russia's National Security Council points to possible disagreements at the top on Moscow's response.