Jonada Avida: Death of girl on Albanian beach sparks protests against government
Comments
By Euronews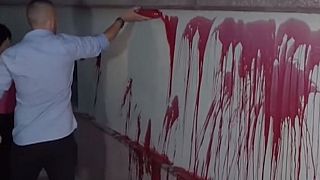 -
Protesters have thrown red paint on Albania's interior ministry building after the death of a seven-year-old girl.
Citizens have called for justice and the resignations of senior officials after Jonada Avida died after an off-duty police officer struck her with a jet ski while she was playing on the beach with her father in Himara, in the south of Albania.
A regional police chief was dismissed after the incident on 2 August. He has also been charged with indirect intentional homicide.
The number of demonstrations in Tirana over the girl's death has grown in recent days, with calls for the dismissal of tourism minister Mirela Kumbaro and interior minister Bledar Çuçi.
Relatives of Avida -- who was in Albania on vacation from the UK -- have called on Albanian Prime Minister Edi Rama to answer their demands.
"We will continue to seek justice for Jonada in international institutions," said Ilirjana Kuçana, a teacher and relative. "We do this for the other Jonadas."
Rama had said on Twitter that the girl's death had "shocked young and old and created a deep sense of concern".
"Albania's State Police is taking all measures to react much more strongly to the challenge of guaranteeing rule of law not only in the streets but also on the seas," he added.
"I once again express my deep desire that justice delivers the most extreme punishment to the perpetrator for this tragedy."
Jet skis are banned from approaching beaches in a number of coastal countries in Europe, including neighbouring Montenegro, Italy and Greece.