Russia to interrogate Ukrainian fighters evacuated from Mariupol steelworks
Comments
By Euronews with AP, AFP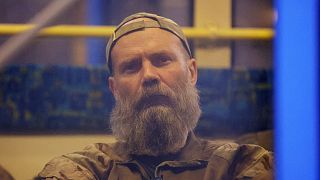 -
After months of fighting, many of the last defenders of the steelworks in Mariupol were evacuated overnight, with the Ukrainian government saying they had fulfilled their mission. Hundreds were evacuated to Russian-held territory, including wounded, though some remain behind.
However, Russia's main federal investigative body said it intends to interrogate those extracted as part of its probe into alleged "crimes by the Ukrainian regime against the civilian population" in Ukraine's east.
Meanwhile, Finland's parliament has approved 188-8 the country's application to join NATO, hours after Sweden formally signed its application to join the military alliance.
Read our live coverage below for more of the key events as they developed on Tuesday.
05.17.2022
06:39
Tuesday's key events:
Eight killed in Russia strike north of Kyiv, say local rescuers.

"Surrendering Azovstal fighters will be treated in line with international norms", says Kremlin spokesperson.

Meanwhile, Russia said it will interrogate the Mariupol defenders taken from Azovstal about alleged war crimes.

Russia claims to have hit US and European arms shipments in western Ukraine.

Finland's parliament approves NATO application: 188-8.

Sweden formally signed its application to join NATO.

Russia is expelling two Finnish diplomats in retaliation for a similar measure taken by Helsinki, the Russian Foreign Ministry said on Tuesday.

The leader of a Turkish nationalist party allied with President Recep Tayyip Erdogan says Sweden and Finland's entry into NATO will lengthen the war in Ukraine.

Hundreds of fighters, including the wounded, have been evacuated from Mariupol steelworks, with the Ukrainian government saying they had fulfilled their mission.

Ukrainian conflict demonstrates European "double standard" in dealing with refugees, says Red Cross chief.

Russia relying on indiscriminate artillery bombardments, says UK Ministry of Defence.
05.17.2022
22:12
Zelenskyy speaks at Cannes Film Festival opening
The 75th Cannes Film Festival has kicked off with a video address from Ukrainian President Volodymyr Zelenskyy.
Zelenskyy appeared Tuesday night live via satellite on video wearing a short-sleeved shirt and flanked by Ukrainian flags. His message played before formally attired attendees at the French Riviera festival that lasts through 28 May.
Zelenskyy spoke at length about the connection between cinema and reality, referencing films like Francis Ford Coppola's "Apocalypse Now" and Charlie Chaplin's "The Great Dictator" as not unlike Ukraine's present circumstances.
"We need a new Chaplin who will demonstrate that the cinema of our time is not silent," said Zelenskyy, who drew a standing ovation.
05.17.2022
22:10
Mariupol steel mill still under Russian siege, Ukraine military says
Russian troops kept up their blockade of the Azovstal steel plant in Mariupol on Tuesday, the Ukrainian military said in its evening operational update.
The army's General Staff said in a post on its official Facebook profile that "in Mariupol, the enemy concentrated its main efforts on blocking our units in the area of the Azovstal plant."
Ukrainian authorities did not disclose the number of fighters who remain in the steel mill -- the last bastion of Ukrainian resistance in the ruined port city -- after 264 soldiers were extracted Monday and taken to territory held by Russia-backed separatists east of Mariupol.
The military also said that the eastern Donetsk region remained the focus of the fighting on Tuesday, with particularly fierce clashes around the Ukrainian-held cities of Siverodonetsk, Avdiivka, and Bakhmut.
05.17.2022
21:29
'Above all, it's home': Euronews correspondent visits battle for Kherson frontlines 
The battle for Kherson is the focus of Ukraine's war efforts in the south of the country, and Euronews' correspondent Anelise Borges was allowed close to the frontlines of a fight waged village by village. 
The fighting is destroying everything in its path, and the residents told Euronews they are staying behind to protect what is left of their homes and their country.
"What can I tell you, stone by stone, we built these houses with our own hands. To leave this is very hard for us. Very hard. We don't want this war. We want to be in peace," Svetlana, a Shevchenkove resident, said.
The southern Ukraine region is outside of the areas claimed by Russia-backed separatists and has been under the control of Russian forces since soon after the invasion began in February.
A Kremlin-installed politician in the Kherson region said last week that officials there planned to appeal to Russian President Vladimir Putin to incorporate the region into Russia.
The tension is overwhelming and shelling is constant and indiscriminate, according to the Ukrainian troops we spoke to.
"Cluster bombs, artillery, mines, tanks, rifles. All that they have. And they shoot at random. They don't have a special target you know," public affairs officer Oleksiy Mishchenko said.
Further down the road, the Euronews team met residents gathering to receive their only means of survival these days.
"Yes we give them [aid] often. We were here yesterday. On the 4th of May, on the 16th…to all families. Yes. Pasta, sandwiches… we will show you right now," military chaplain Andriy Shevchenko stated.
But despite all difficulties, residents are not giving up on remaining in their homes, like Liubna and her husband Leonid who have been spending every night in their dark, damp basement.
"We are confident and stubborn people and we wait for them to be kicked out. This is my house. I don't want to give it to them," Ljubna told Euronews.
It can get cold in their basement, they say, but it's safe. And — above all — it's home. 
05.17.2022
20:04
Zelenskyy talks to Macron further weapons deliveries from France, EU membeship
Ukrainian President Volodymyr Zelenskyy says he and his French counterpart have discussed issues ranging from the evacuation of Ukrainian fighters from Mariupol to Ukraine's EU membership prospects.
Zelenskyy wrote on Twitter Tuesday evening that he had finished "a long and meaningful phone conversation with Emmanuel Macron."
Zelenskyy said he told Macron about "the course of hostilities, the operation to rescue the military from Azovstal and the vision of the prospects of the negotiation process."
Meanwhile, the Elysee said that Macron told his Ukrainian counterpart that French arms deliveries to Ukraine would intensify in coming days and said France was ready to respond to additional demands for help.
Ukraine's EU application would be examined by EU members at a summit in June and he repeated an idea about creating a new "political community" outside the EU to make it easier to integrate Ukraine.
05.17.2022
19:10
Ukrainian official hopes Azovstal fighters will be exchanged despite objections from Russian Duma
Ukraine's deputy defence minister expressed hope on Tuesday that the 264 Ukrainian fighters extracted from the Azovstal steel mill in Mariupol will be exchanged for Russian prisoners of war, despite remarks by a top Russian official who called them "criminals" who have to be "brought to justice".
Hanna Maliar said at a briefing Tuesday that the comment by Russian State Duma speaker Vyacheslav Volodin is a political statement, "conceived as internal propaganda, internal political processes in the Russian Federation."
Maliar said that from Ukraine's perspective both the negotiation process and rescue operation itself is ongoing.
Earlier Tuesday, the Russian news agency Interfax cited Volodin as calling the Azovstal fighters "Nazi criminals" who should be excluded from any future exchanges.
Volodin was cited calling the fighters "war criminals" and that Russia "must do everything to bring them to justice".
05.17.2022
18:01
Concerns that Russia could cut off gas supplies to Finland 
Finland is concerned that Russia might cut gas supplies, because of its refusal to pay Russia's Gazprom in rubles, the Nordic country's gas operator announced on Tuesday.
Gasum, the company in charge of gas imports to Finland, "does not accept Gazprom Export's demand to switch to ruble payments and will therefore not make any ruble payments," the group announced in a statement.
The announcement, which coincides with Finland's bid to join NATO, comes a few days after Russian electricity exports to Finland were suspended due to payment problems.
Although gas accounts for only 8% of the energy consumed in Finland, a majority of the gas used in the Nordic country comes from Russia.
Gasum, which says it has taken the dispute to an arbitration court, considers that there is an "increased risk" that the contracted supply will be interrupted "and as a result the import of natural gas from Russia to Finland will stop".
Finland has already announced plans to go without Russian gas next winter, with a dedicated import vessel to be shared with neighbouring Estonia.
Several countries that refused to pay in roubles to avoid supporting the Russian economy during the war in Ukraine, such as Poland and Bulgaria, have had their gas cut off by Gazprom.
(AFP) 
05.17.2022
17:41
Russians say they'll disclose Ukrainian war crimes evidence next week
The Russian Embassy in The Hague says it will disclose "videos of witnesses' evidence of crimes" at a presentation next week. 
The diplomatic outpost claims they'll show "human rights violations and killings of civilians by Ukraine's troops and nationalist organisations, as well as shelling by the Armed Forces of Ukraine of peaceful objects in Donbas." 
The event will be hosted by Russia's ambassador to The Hague -- home of the International Criminal Court -- and the featured speaker is Maxim Grigoriev, described as the "Chairman of the International Public Tribunal for Ukraine."
If it not clear why Russian authorities are waiting until next week to reveal their evidence of war crimes. 
(Euronews) 
05.17.2022
16:47
Sweden and Finland to send joint NATO candidacy letters on Wednesday
Sweden and Finland will jointly submit their candidacies to NATO headquarters in Brussels on Wednesday, Swedish Prime Minister Magdalena Andersson announced on Wednesday.
"I am happy that we have taken the same path and that we can do it together," she said during a joint press conference with Finnish President Sauli Niinistö.
Sweden's foreign minister signed her country's letter on Tuesday morning, while the Finnish parliament voted overwhelmingly to join NATO on Tuesday by 188-8 and will likely sign their own letter on Tuesday evening. 
President Niinistö is currently on a State Visit to Sweden, and he and Andersson will go to Washington DC on Thursday for talks with US President Joe Biden. 
"Thanks for the close cooperation in recent months" Niinistö wrote to Andersson on Twitter. 
"We are taking historic steps." 
(Euronews / AFP)