Ukraine war: Kyiv expects 'extremely difficult weeks', defence minister says
Comments
By Euronews with AP, AFP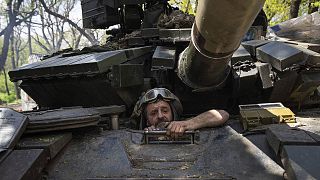 Copyright

AP Photo/Evgeniy Maloletka

-
Russia's state-owned energy giant Gazprom announced on Wednesday that it was suspending gas deliveries to Poland and Bulgaria after the two countries refused to pay for gas in roubles. European gas prices have spiked by as much as 24% as a result.
Visits to the Ukrainian capital by top officials continued, as UN Secretary-General Antonio Guterres arrived for talks with President Volodymyr Zelenskyy.
Bulgarian Prime Minister Kiril Petkov, Speaker of the Parliament of North Macedonia Talat Xhaferi, Speaker of the Parliament of Romania Florin Citu and Speaker of the Parliament of Switzerland Irene Kalin all travelled to Kyiv on Wednesday.
Read the blog below to see how events unfolded on Wednesday:
04.27.2022
06:58
Wednesday's key points:
The UN Secretary General António Guterres has arrived in Ukraine for talks. He was in Moscow on Tuesday.

The British government has urged Western countries to send more tanks, planes, and heavy weapons to Ukraine. Russia accused Britain of "Russophobic hysteria" on Wednesday as it banned 287 UK politicians. 

Gazprom suspends gas deliveries to Poland and Bulgaria, with the EU describing it as 'blackmail'.

Russia warned more countries could be cutoff from state-owned Gazprom gas if they don't give in to a Russian demand to pay for the gas in rubles instead of euros, after a freeze on Russian hard currency assets.  

Austria's chancellor says any suggestion that his country will pay for Russian gas in rubles, not euros, amounts to 'fake news propaganda." 

The biggest automobile association in Germany has told its 21 million members to ease their foot of the pedal to lower speeds and help reduce reliance on Russian fuel.   

Ukraine retains control over the majority of its airspace, according to the latest intelligence report from the British Ministry of Defence.

Germany close to gas independence from Russia, says vice chancellor.

UN chief and Russia's Putin agree in principle that the UN and Red Cross should be involved in the evacuation of civilians from the besieged steel plant in Mariupol.

Refugees continue to stream out of eastern Ukraine.
04.27.2022
22:57
Finland and Sweden under threat of Russian malign influence ahead of NATO decision
Finland and Sweden must prepare for increased Russian spy operations, cyber-attacks and attempts to influence lawmakers as they consider joining NATO after Moscow's invasion of Ukraine, the Nordic nations' intelligence chiefs said on Wednesday.
Swedes and Finns, especially decision-makers, should be more vigilant than before in spotting attempts by Russia to influence policy and perceptions, the head of Finland's security service told a joint news conference with his Swedish and Norwegian counterparts.
"Russia's possibilities for human intelligence operations are currently limited because the willingness of Finns to cooperate with Russian diplomats is at a low level," Antti Pelttari said.
Russia's invasion has forced Sweden and Finland to reassess their longstanding military neutrality, and they are expected to announce in May whether they will join the US-led NATO alliance.
04.27.2022
21:39
Moscow forces disperse protest in occupied Kherson with tear gas, stun grenades
Russian forces used deterrents to disperse a pro-Ukraine rally in the occupied city of Kherson on Wednesday, Ukraine's Prosecutor General said, as Moscow tightened its grip over the southern Ukrainian region.
"During a peaceful pro-Ukrainian rally on Freedom Square in the city of Kherson, servicemen of the Russian armed forces used tear gas and stun grenades against the civilian population," the office of Ukraine's Prosecutor General said in a statement.
Local authorities say Russia appointed its own mayor of Kherson on Tuesday after its troops took over the administration headquarters in the regional capital, which was the first big urban centre to be seized after the 24 February invasion.
Some residents have staged occasional anti-occupation rallies in Kherson and crowds gathered in the city centre again on Wednesday -- the date Kyiv had said Russia planned to run a referendum to create a breakaway region like those in eastern Ukraine.
04.27.2022
21:16
Russian aggression helped Europe unite, Italian president says
The Russian invasion of Ukraine "gave additional drive" to the process of European unity, Italian President Sergio Mattarella said Wednesday as he addressed the Council of Europe's Parliamentary Assembly in Strasbourg.
He added that Italy is ready to impose eventual additional EU sanctions on Russia over its invasion of Ukraine "without any hesitation".
"Russia's aggression gives additional drive towards the unity of the European countries and peoples who believe in peace, democracy and the respect of international law and the rule of law," Mattarella said.
Asked by a British Conservative delegate whether all Italian companies were respecting the sanctions regime, Mattarella responded by saying that "the sanctions framework is fully operational in Italy".
"With respect for the principles of the rule of law and of the free-market economy that are in force in Italy (...) companies autonomously apply the consequent rules, as happens in countries that have a free market," he stated.
04.27.2022
21:11
UN preparing team to coordinate Mariupol plant evacuation
The UN says its humanitarian office is mobilising an experienced team from around the world to coordinate the complex evacuation of civilians from the besieged steel plant in the battered Ukrainian city of Mariupol with the International Committee of the Red Cross.
UN Secretary-General António Guterres and Russian President Vladimir Putin agreed in principle to UN and ICRC participation in the evacuation from the plant during a nearly two-hour, one-on-one meeting Tuesday.
The sprawling Azovstal complex, which has been almost completely destroyed by Russian attacks, is the last pocket of organized Ukrainian resistance in Mariupol.
An estimated 2,000 troops and 1,000 civilians are said to be holed up in bunkers underneath the wrecked structure.
UN officials are having follow-on discussions Wednesday with authorities in Moscow and Kyiv "to develop the operational framework for the timely evacuation of civilians," while Guterres will be meeting Volodymyr Zelenskyy on Thursday.
04.27.2022
21:03
EU suspending customs duties would maximise Ukraine's economic activity, Zelenskyy says
The proposal by Brussels to suspend all customs duties on Ukrainian products imported into the EU for a year will "support economic activity to the maximum," Ukrainian President Volodymyr Zelenskyy said Wednesday.
"This will allow us to support economic activity to the maximum in Ukraine and preserve our national production," Zelenskyy said in a video posted on Telegram.
The proposal still needs to be approved by the European Parliament and the 27 EU member states.
04.27.2022
18:43
United Nations Secretary-General arrives in Ukraine
The UN Secretary-General António Guterres has arrived in Ukraine for talks with the country's leadership in Kyiv. 
Guterres was in Moscow on Tuesday where he met with President Vladimir Putin and Foreign Minister Sergei Lavrov and called for an independent investigation into allegations of war crimes in Ukraine. 
Arriving in Ukraine he said that the UN "will continue our work to expand humanitarian support & secure the evacuation of civilians from conflict zones." 
"The sooner this war ends, the better -- for the sake of Ukraine, Russia, and the world." 
Delete
04.27.2022
18:12
Putin promises 'rapid' response in the event of external intervention
Russian President Vladimir Putin on Wednesday warned against any outside intervention in the conflict in Ukraine, promising it would be met with a "swift and devastating" response.
"If someone intends to interfere from the outside in what is happening [in Ukraine] and to create unacceptable threats for Russia, they must know that our response [...] will be lightning-fast," Putin told the Russian parliament.  
According to Putin, Russia will not hesitate to use its most modern weapons in response.
"We have all these tools that no one else can brag about right now. We're not going to brag: we're going to use them if we have to. And I want everyone to know that," he said.
"All the decisions on this have already been made," he added.
(AFP)
04.27.2022
17:19
Russia withdraws from UN's World Tourism Organisation
Russia announced it was withdrawing from the United Nations World Tourism Organisation on Wednesday -- just hours before the body's assembly voted to temporarily suspend the country's membership over the invasion of Ukraine, officials said.
UNWTO Secretary-General Zurab Pololikashvili made the announcement on his official Twitter account. He said it was the first UN body to address Russia's membership.
The organisation went ahead and approved the suspension at a special meeting in Madrid on Wednesday, where the organization has its headquarters.
"[Russian President Vladimir] Putin's military offensive is an attack on the founding principles of the United Nations and on the values that tourism represents, such as peace, prosperity and universal respect and the observance of human rights," Spanish Industry, Trade and Tourism Minister Reyes Maroto said in a statement following the decision.
04.27.2022
16:21
Two men arrested in Poland for allegedly spying for Russia
Security authorities in Poland say that a Russian and a Belarusian man have been arrested on allegations that they spied for Russian intelligence.
A spokesman for Poland's state security bodies, Stanislaw Zaryn, said Wednesday that material gathered by Polish military intelligence led to their arrest.
He said that they were gathering sensitive military data, including information about Polish troops in the area near Poland's border with Belarus.
The men were arrested separately last week.