Ukraine war: 'New phase of war' as Russia's offensive in east begins
Comments
By Euronews with AP, AFP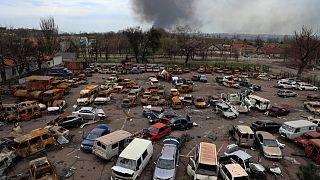 -
Copyright

AP Photo/Alexei Alexandrov
Russian forces have begun a new offensive in the east of Ukraine after their retreat from the capital region and other parts of the country.
The Ukrainian military's General Staff noted that "a new phase of war" began when troops attempted to break through defences in the eastern regions.
Read more about Tuesday's events as they unfolded in our blog below.
04.19.2022
09:25
Tuesday's key points:
The Russian offensive on eastern Ukraine has begun on Monday night, Ukrainian President Volodymyr Zelenskyy announced in a video address.

The Ukrainian military's General Staff noted that a "new phase of war" began when "the occupiers made an attempt to break through our defences along nearly the entire frontline in the Donetsk, Luhansk and Kharkiv regions."

Ukraine has received an undisclosed number of fighter jets and spare parts, US officials said on Tuesday night.

The Kremlin has continued to expel European diplomats on Tuesday, including representatives of Austria, Belgium and the Netherlands.

Russian troops have continued their shelling of Kharkiv, killing at least three and injuring 21 on Tuesday, according to the local authorities.

Multiple missiles struck the western Ukrainian city of Lviv on Monday, killing seven and wounding 11, the city's governor said.

Russia has Mariupol surrounded and has been fighting a bloody battle to seize it.

Mariupol has been effectively wiped off the map, says Ukraine's Foreign Minister Dmytro Kuleba.
04.19.2022
23:14
This is the end of our live blog for today. Euronews is signing off.
04.19.2022
22:45
Pentagon spokesman: Ukraine has received undisclosed number of fighter jets
Ukraine has received fighter jets and spare parts to bolster its air force, Pentagon spokesman John Kirby said Tuesday, declining to specify the aircrafts' number, type, or origin.
"They have more fighter jets today than they did a fortnight ago," the spokesman told a news briefing, stressing that the US had facilitated the shipment of spare parts to Ukrainian territory but had not flown any aircraft there.
04.19.2022
22:39
Communications with Chornobyl power plant restored, IAEA says
The International Atomic Energy Agency says direct phone communications between the decommissioned Chornobyl power plant and Ukraine's nuclear regulator have been restored.
Ukraine informed the Vienna-based UN nuclear watchdog on 10 March that it had lost direct contact with the plant, the site of the 1986 disaster.
Russian forces seized Chornobyl at the beginning of the invasion on 24 February and withdrew on 31 March.
The IAEA's director-general, Rafael Mariano Grossi, said Tuesday that "this was clearly not a sustainable situation, and it is very good news that the regulator can now contact the plant directly when it needs to."
Grossi plans to lead a mission of IAEA experts to Chornobyl to conduct nuclear safety and radiological assessments, deliver equipment and repair the agency's own remote monitoring systems there.
04.19.2022
21:17
At least three civilians died in latest bombardment of Kharkiv, local authorities say
At least three people were killed and 21 wounded Tuesday in new Russian shelling on Kharkiv, a major city in northeastern Ukraine, local authorities said a day after strikes already killed five people.
"In Kharkiv, unfortunately, three people are dead," regional governor Oleg Synyehubov said on Telegram.
He also told the local TV channel Hromadske that 21 people had been injured in the strikes on four residential areas of the city.
"The intensity of shelling in Kharkiv has increased," Synyehubov said, urging residents to take cover and not to go out into the streets.
The city could be one of the targets of the renewed Russian offensive against eastern Ukraine, the start of which was announced on Monday evening by Ukrainian President Volodymyr Zelenskyy.
04.19.2022
21:13
Pentagon: Russian military estimated to have lost 25% of combat power prior to renewed assault
Russia is assaulting cities and towns across Ukraine's eastern industrial heartland in what both sides call a new phase of the war after losing about 25% of the combat power it sent into Ukraine, according to Pentagon estimates.
Capturing the Donbas region, where two Moscow-backed so-called people's republics declared independence after war first broke out in 2014 would give Russian President Vladimir Putin a badly needed victory, slicing Ukraine in two and depriving it of key industrial assets.
The Russian Defense Ministry spokesman Major General Igor Konashenkov said air-launched missiles destroyed 13 Ukrainian army locations, while artillery hit 1,260 Ukrainian military facilities and 1,214 troops concentrations over the last 24 hours. The claims could not be independently verified.
04.19.2022
20:32
German chancellor says Ukraine better off with Soviet-era weapons, vows to provide military support
Chancellor Olaf Scholz says Germany will continue to enable weapons deliveries to Ukraine, with one possibility being systems from eastern European nations that would be easily and quickly usable.
Scholz has faced increasing pressure from within his own governing coalition and the main opposition party to deliver heavy weapons such as German Leopard tanks.
But Scholz said Germany and its partners in the Group of Seven industrial nations have concluded it makes more sense to send in systems already used in Ukraine, such as the Soviet-era weapons some NATO partners still have.
Western partners would help those countries with replacements.
After conferring with other Western leaders on Tuesday, Scholz said "all of us will continue to support Ukraine, financially and also militarily."
He said the priority has been to deliver what can be supplied and used quickly, first from Germany's own limited supplies and then funding purchases by Kyiv, and that any unilateral decisions by Germany "would be wrong".
Scholz said that it's important to prevent the war from spreading to other countries, "so NATO can't and won't intervene directly in the war."
04.19.2022
20:15
Moscow uses its diplomatic network to spread disinformation, researchers say
The Kremlin's diplomats are stepping up to do more online disinformation as governments and social media companies move to suppress Russia's state media and the propaganda it spreads about the war in Ukraine, researchers claim.
Russian embassies and consulates are prolifically using social media platforms to deflect blame for atrocities while seeking to undermine the international coalition supporting Ukraine, data from monitoring organisations reveals.
"Each week since the beginning of the war these diplomats have posted thousands of times, gaining more than a million engagements on Twitter per week," said disinformation researcher Marcel Schliebs at the Oxford Internet Institute who tracks more than 300 social media accounts linked to Russian embassies, consulates and diplomatic groups.
Tech companies have responded by adding warning labels and removing Russia's diplomatic accounts from its recommendations and search results.
04.19.2022
18:57
UN secretary-general calls for Easter truce in Ukraine
Speaking in front of the United Nations headquarters in New York, Secretary-General António Guterres called for a four-day ceasefire in Ukraine, as millions of Eastern Orthodox faithful celebrate Easter on Sunday.
Guterres on Tuesday denounced the Russian offensive in eastern Ukraine and called on both sides to halt the fighting for a "humanitarian pause" to mark the religious holiday.
His call for the warring parties to lay down their arms comes as Russia has intensified its offensive in the east of Ukraine. 
"I am calling today for a four-day humanitarian pause for the Holy Week," from Thursday to Sunday, "to allow the opening of a series of humanitarian corridors" in Ukraine, the UN chief said.
More than four million people in areas such as Mariupol, Donetsk, Luhansk and Kherson are in need of assistance , said Guterres.
04.19.2022
18:06
What would a neutral Ukraine look like?
For over two decades since the end of the Soviet Union until the Russian invasion of Crimea, Ukraine was officially non-aligned – or neutral – in international affairs.
This meant that while the country often swung between pro-Russian and pro-European governments, it did not formally take a side in the geopolitical to-and-fro between East and West.
All that changed in 2014, when Russia seized Crimea. Ukraine officially abandoned its neutrality and MPs cheered as they voted to drop the country's non-aligned position by 303 votes to just eight.

Read the full story here.