Ukraine war: Zelenskyy vows end to Russia peace talks if Ukrainian troops 'eliminated' in Mariupol
Comments
By Euronews with AP, AFP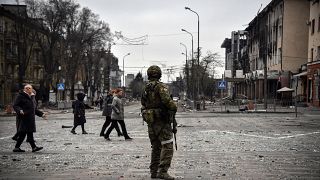 Copyright

ALEXANDER NEMENOV / AFP

-
Saturday was day 52 of the war in Ukraine. Russian forces are expected to begin a new big offensive in the east of the country after their retreat from the Kyiv region and other parts of the country revealed growing evidence of human rights atrocities.
Despite Moscow's blanket denials, horrific discoveries of civilian murders, torture and other barbaric acts continue coming to light, with Ukrainian authorities claiming tens of thousands of civilian casualties in Mariupol alone.
Ukraine has continued to call for tighter Western nations against Moscow and for more weapons to repel Putin's forces.
Click here for Sunday's latest updates on the war.
Follow Saturday's events as they unfolded in our blog below, and watch our report in the video player above.
04.16.2022
09:48
Saturday's key points:
President Zelenskyy has warned Russia not to "eliminate" the last Ukrainian troops in Mariupol, or it would mean the end of peace talks.
One person was killed and several were wounded in Russian strikes on targets in eastern Kyiv, the city's mayor says. Russia's defence ministry claimed its forces struck a military equipment factory in the Ukrainian capital. 
The governor of the Lviv region in western Ukraine reported Russian air strikes in the region on Saturday morning. He claims Ukrainian air defences downed four cruise missiles.
Russia has banned UK Prime Minister Boris Johnson and several other leading politicians from entering the country.
Volodymyr Zelenskyy said Friday that existing sanctions on Russia are "painful" but not yet enough to stop the Russian military. He called for "the democratic world" to ban Russian oil. 
CIA Director William Burns has said no one "can take lightly" the threat that Russia could use tactical or low-yield nuclear weapons but he has seen no "practical evidence" suggesting it is imminent.
Zelenskyy echoed those words, saying the world should be worried about how Putin might react to military setbacks.
The Ukrainian president has said about 2,500 to 3,000 Ukrainian troops have been killed in seven weeks of war with Russia and about 10,000 injured.
Ukraine's deputy prime minister said nine humanitarian corridors were agreed for Saturday, including from Mariupol.
04.16.2022
19:01
Zelenskyy warns 'elimination' of last Mariupol troops would 'end peace talks'
Ukrainian President Volodymyr Zelenskyy warned Saturday that the "elimination" of the last Ukrainian soldiers present in the port city of Mariupol besieged by Russian forces "would put an end to any peace negotiations" with Moscow.
"The elimination of our soldiers, of our men (in Mariupol) will put an end to any negotiation" of peace between Russia and Ukraine, declared the president in remarks reproduced by the news website Ukraïnska Pravda, warning that the two sides would then find themselves in "an impasse".
In terms of human casualties, he said "Mariupol...  could be ten times Borodianka", a small Ukrainian town near Kyiv destroyed after being shelled and the scene of alleged abuses during its occupation by Russian soldiers.
"And the more Borodiankas there are, the more difficult it will be" to negotiate, he stressed.
On April 11, the Ukrainian army announced that it was preparing for "a final battle" in Mariupol. "It will be death for some of us and captivity for others," the 36th Marine Brigade wrote on Facebook.
The next day, the Ukrainian authorities said the fighting had killed between 20,000 and 22,000 people in the strategic city, which in peacetime had 440,000 inhabitants.
(AFP)
04.16.2022
17:05
German anti-war rallies include protests against weapons for Ukraine
Peace activists took part Germany's traditional Easter marches on Saturday, calling for an end to the war in Ukraine but also in at least some cases opposing helping Ukraine defend itself with weaponry.
A Berlin event drew 400 people and one in Hannover 500, the dpa news agency reported, citing police. Marches took place in cities including Munich, Cologne, Leipzig, Stuttgart and Duisburg. Banners included "End the war in Ukraine" and "He who sends weapons reaps war."
The country's vice chancellor, Greens politician Robert Habeck, warned demonstrators against sending the wrong message, saying "there will only be peace when Putin stops his war of aggression." He said in an interview with the Funke media group that it was "clear who the aggressor is who and who are defending themselves in an emergency and whom we must support, also with weapons."
Ukrainian officials say Germany has sent anti-tank and anti-aircaft weapons as well as night vision equipment, body armour and machine guns.
The locally organized peace marches date back to the days of the Cold War and focus on issues such as disarmament and abolition of nuclear weapons.
(AP)
04.16.2022
16:59
1,700 Ukrainians 'held captive' by Russia — deputy PM
Ukraine's Deputy Prime Minister Iryna Vereshchuk said in televised remarks on Saturday that 700 Ukrainian troops and more than 1,000 civilians -- more than half women -- are currently being held captive by the Russians.
Vereshchuk said Kyiv intends to swap the captive soldiers, since Ukraine holds about the same number of Russian troops but demands to release the civilians "without any conditions."
(AP)
04.16.2022
15:29
Ukrainian forces still holding on in Mariupol
In besieged Mariupol, scene of the war's heaviest fighting and worst humanitarian catastrophe, Russian troops pressed recent advances, hoping to make up for their failure to capture Kyiv by seizing their first big prize of the war.
Reuters journalists in Russian-held parts of the city reached the Ilyich steel works, which Moscow claimed to have captured on Friday, one of two giant metals plants where defenders have held out in underground tunnels and bunkers.
The factory was reduced to a silent ruin of twisted steel and blasted concrete, with no sign of defenders present. Outside, at least half a dozen civilian bodies lay scattered on nearby streets, including a woman in a pink parka and white shoes.
Someone had spraypainted "mined" on a fence by an obliterated filling station forecourt. In a rare sign of life, one red car drove slowly down an otherwise empty street, the word "children" scrawled on a card taped to the windshield.
Ukrainian President Volodymyr Zelenskyy said he discussed the fate of Mariupol in a meeting Friday with the country's military leaders and the heads of its intelligence agencies.
"The details cannot be made public now, but we are doing everything we can to save our people," Zelenskyy said in his nightly video address to the nation.
"Russian forces continued to grind down Ukrainian defenses in southwestern and eastern Mariupol, though ISW cannot confirm any major new territorial changes in the past 24 hours," the US Institute for the Study of War (ISW) said in its Friday update. "Ukrainian defenders reported that the situation is "deteriorating" and Russian forces are deploying additional artillery and heavy weapons."
The ISW said on Twitter that Russian forces had made "slight advances" in Mariupol city centre.
(with Reuters/ AP)
04.16.2022
13:45
'One dead and several hurt' in Kyiv strikes, says mayor
Kyiv Mayor Vitali Klitschko said that one person died and several more were wounded in the Saturday morning airstrikes on the Darnytski district of the capital, as Russian forces resumed scattered attacks on the capital in western Ukraine.
"Our air defence forces are doing everything they can to protect us, but the enemy is insidious and ruthless," Klitschko said on the Telegram messaging app.
The attacks, which the Russian Defence Ministry said targeted an armored vehicle plant in the Ukrainian capital, was an explosive reminder to Ukrainians and their Western supporters that the whole country remains under threat despite Russian forces pivot to the east, where a new offensive is feared.
Klitschko urged Ukrainians not to return to Kyiv just yet in televised remarks Saturday, warning that strikes on the capital are likely continue and its suburbs are rigged with explosives. "We're not ruling out further strikes on the capital," Klitschko said. "We can't prohibit, we can only recommend. If you have the opportunity to stay a little bit longer in the cities where it's safer, do it."
The mayor of Kyiv added that because of the mines, Kyiv residents are barred from visiting parks and forests in the northeastern areas that border with liberated territories formerly occupied by Russians.
(AP)
04.16.2022
13:19
Latest on-the-ground reports around Ukraine
Ukraine's presidential office reported on Saturday that missile strikes and shelling over the past 24 hours occurred in eight regions: Donetsk, Luhansk and Kharkiv in the east, Dnipropetrovsk, Poltava and Kirovohrad in the central Ukraine and Mykolaiv and Kherson in the south. The strikes underlined that the whole country remained under threat despite Russia's pivot toward mounting a new offensive in the east.
Luhansk regional governor Serhiy Haidai said the Russian forces shelled an oil refinery in the city of Lysychansk on Saturday morning, and a large fire erupted on its territory. He underlined that there was no fuel at the refinery at the time of the attack and "the remains of oil sludge" were burning.
Earlier the governor said shelling in the eastern Luhansk region killed one person and wounded three more, the governor said, and also damaged gas pipelines in Severodonetsk and Lysychansk.
Russian forces hit an airfield with a missile strike late on Friday in Oleksandriya, a city in Ukraine's Kirovohrad region, the mayor of the city said on Saturday without mentioning whether there were casualties.
The mayor of Aleksandria, about 300 km southeast of Kyiv, said on Facebook that a Russian missile had hit the city's airport overnight on Friday into Saturday. He said that the rescue teams were at work but had no immediate word on casualties.
Authorities in the northeastern Kharkiv region said on Friday that 10 people including a seven-month-old baby were killed, and 35 others injured, as Russia attacked buses evacuating residents.
In southeastern Ukraine, nearly 2,900 civilians were evacuated on Friday from besieged Mariupol and Berdyansk to Zaporizhzhia, according to Kyiv.
The Russian defence ministry said on Friday that Russian artillery had caused the death of around 30 "Polish mercenaries" in northeastern Ukraine.
(AFP/ AP)
04.16.2022
12:19
Russia bans Boris Johnson from entering country
Russia announced on Saturday that British Prime Minister Boris Johnson and several other senior British officials were banned from entering the country, after London imposed sanctions on Moscow over its military operation in Ukraine.
"This measure was taken in response to the unbridled media and political campaign aimed at isolating Russia internationally and creating the conditions for (...) strangling the national economy," the Russian Foreign Ministry said in a statement. 
Among the others on the banned list are Deputy Prime Minister Dominic Raab, Foreign Secretary Liz Truss, Defence Secretary Ben Wallace, former Prime Minister Theresa May and Scotland's First Minister Nicola Sturgeon.
The ministry's statement cited "unprecedented hostile actions of the British government, expressed, in particular, in the imposition of sanctions against top officials" in Russia.
"The Russophobic course of action of the British authorities, whose main goal is to stir up negative attitude toward our country, curtailing of bilateral ties in almost all areas are detrimental to the well-being and interests of the residents of Britain. Any sanctions attack will inevitably backfire on their initiators and receive a decisive rebuff," the statement said.
In mid-March Russia announced a similar travel ban on US President Joe Biden and other US officials. Western countries including the US, the UK and the EU have targeted Russian President Vladimir Putin and other senior officials with sanctions.
On Friday evening, the ministry announced the expulsion of 18 European Union diplomats from Moscow, in retaliation for the bloc's declaring 19 diplomats from the Russian mission to the EU and to the European Atomic Energy Community persona non-grata.
The European Union said the expulsions were groundless, and that EU diplomats targeted were working in the framework of the Vienna convention on diplomatic relations.
Read more here and watch our report.
(AFP and AP)
04.16.2022
12:11
Kyiv still being attacked by Russian missiles, says MP
Kyiv has been the target of rocket attacks and cruise missiles even though Russian forces have withdrawn from its surrounding region according to Ukrainian MP, Sviatoslav Yurash.
Talking to British broadcaster Sky on Saturday, he said that Russian forces have been using long range weapons and aircrafts to attack from afar.
Yurash said that even though Russian forces were pushed back there was always the threat of them coming back to try and seize the capital.
He warned that Russians were preparing a big attack from the east and that they were determined to prove that the invasion was not in vain.
"Kyiv continues to receive rocket attacks by cruise missiles from Russia, even though we defeated the Russians around Kyiv and pushed them back across the border," Yurash said.
"They attack from the long range, they attack from aircraft, they have been firing rockets non-stop," he went on, adding that Ukraine was ready to deal with the threat of Russia trying to retake the capital.
(with AP)
For a summary of Friday's developments, click here.