Kyiv expecting the worst, as Russia vows to step up strikes
Comments
By Euronews with AP, AFP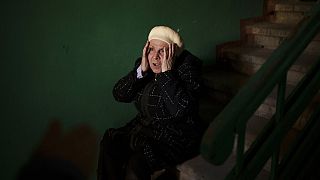 Copyright

(AP Photo/Felipe Dana)

-
It is day 51 of the war in Ukraine, as Russian forces are expected to begin a new big offensive in the east of the country after their retreat from the Kyiv region and other parts of the country revealed growing evidence of human rights atrocities.
Despite Moscow's blanket denials, horrific discoveries of civilian murders, torture and other barbaric acts continue coming to light, with Ukrainian authorities claiming tens of thousands of civilian casualties in Mariupol alone.
Kyiv forces continue to prepare for the renewed assault, while Western nations keep tightening sanctions against Moscow and NATO and condemnations of Vladimir Putin's actions continue to grow.
Follow Friday's events as they unfold in our blog below, or watch TV coverage in the video player above.
04.15.2022
06:45
Friday's key points:
Ukraine braces for renewed Russian attacks, after Russia vows to step up strikes in response to what it calls Ukrainian 'terrorist' attacks. 

A factory in the Kyiv region manufacturing Neptune missiles was hit overnight by a Russian strike, with the Kremlin vowing more missile strikes on Kyiv in response to alleged Ukraine attacks on its territory. 

Ten dead and 35 injured in Russian bombardments on Kharkiv, say regional authorities. 

In his nightly address on Thursday, Volodymyr Zelenskyy praised the courage of his compatriots in fighting back for almost eight weeks after Moscow "gave us five days".

A US official says the Russian cruiser that sunk Thursday was hit by a Ukrainian Neptune missile. The Kremlin claimed fire, not an attack, was to blame. But will the sinking impact the war?

Should Finland or Sweden join NATO, Russia has threatened a military build-up in the region.

Kyiv said it's reached an agreement with Moscow to reopen humanitarian corridors in Mariupol.

Russia claims Ukraine has struck its territory with airstrikes. This cannot be independently verified. 

More than 4.6 million refugees have fled Ukraine since Russia's invasion, with millions being displaced internally, mostly in the western parts of the country.

Additionally, 4.8 million of Ukraine's 7.5 million children have been displaced since 24 February, said UNICEF.
04.15.2022
23:08
This is the end of our live blog for today. Euronews is signing off. 
04.15.2022
23:07
Serbians take to the streets in support of Russia 
Protestors have held a demonstration in Serbia in support of Vladimir Putin, after Serbia voted against Russia at the United Nations. 
Hundreds of protestors gathered in the Serbian capital Belgrade, carrying pictures of the Russian President and T-shirts emblazoned with the letter Z, the symbol of Russia's invasion of Ukraine. 
The Friday rally was organised to protest against Serbia's vote to expel Russia from the UN Human Rights Council. 
Serbia remains the only country in Europe that has not imposed sanctions on Russia, but right-wing groups are angry that Belgrade is undermining Moscow internationally. 
Local media say that masked protesters lit flares and smoke bombs outside the offices of the Serbian President Aleksandar Vucic during the protest and placed a Russian flag on the presidency building.
Similar protests have been held across Serbia since the outbreak of the war in Ukraine. Many Serbians are loyal to Russia, believing Moscow was provoked by the West to launch the invasion.
Anti-western sentiments in Serbia stem from a 1999 NATO bombing campaign that forced Belgrade to give up control of the Kosovo province. 
04.15.2022
22:52
Germany to give Ukraine more than 1bn euros in military aid
The German government announced on Friday it wanted to release more than a billion euros in military assistance for Ukraine. 
Berlin has not specified what the money will be used for, with Kyiv complaining it has not received heavy weaponry from the country. 
The billion euro cheque will be used by the Ukrainian government to finance the purchase of military equipment, and comes onto top of a seperate billion euro aid deal between the two countries. 
Berlin is trying to respond to growing criticism from Ukrainian authorities, alongside other EU partners, such as Poland and the Baltic states, that it is not providing enough support to Kyiv, with some accusing it of showing compliancy towards Russia. 
The German government is reluctant to authorise the delivery of heavy weaponry, such as tanks or helicopters, for fear of entering into a dangerous military spiral with Russia.
The move comes after the German President, Franck Walter-Steinmeier, suffered a diplomatic snub Wednesday, when a proposed visit to Kyiv was refused by Ukraine.
Ukrainian authorities said the head of state, although in a largely ceremonial role, had pursued a pro-Russian policy for years. This was hotly denied by Berlin. 
(AFP)
04.15.2022
22:31
Ukraine claims crew of Moskva 'could not be saved' 
A Ukrainian military official has alleged that Russia could not save the 500 men who were stationed on the Russian warship, after it was struck by a suspected Ukrainian missile. 
Russia maintains it successfully evacuated the crew before the ship sank, due to a fire that severely damaged it. 
Ukraine's claim cannot be independently verfied, and niether senior Pentagon officials nor Russia have given any details on possible casualties onboard the Moskva. 
"A storm prevented the rescue of the ship and the evacuation of the crew," said Natalia Goumenyuk, spokeswoman for the military command of southern Ukraine. 
04.15.2022
22:18
Kyiv expects the worst after Moskva sinking 
Russia promised on Friday to step up its strikes against Kyiv in response to what it calls Ukrainian "terrorist" attacks. 
It has already targetted sites manufacturing Neptune missiles, which Ukraine claims sunk Russia's flagship of the Black Sea Fleet, the Moskva. 
"We are perfectly aware that we will not be forgiven for the destruction of the Moskva and therefore this blow to Moscow's "imperial ambitions," said Natalia Goumeniouk, spokeswoman for the military command of southern Ukraine.]
"We are aware that the attacks against us will intensify, that the enemy will take revenge, that there will be missile attacks and artillery bombardments," she continued, reporting strikes in the south, in particular the city of Mykolaiv, near Odessa.
Russia, which is still yet to confirm that a Ukrainian missile sunk the Moskva, set the tone on Friday morning, vowing to set up its attacks on Ukraine. 
"The number and scale of missile strikes on Kyiv sites will increase in response to all terrorist-type attacks and sabotage carried out on Russian territory by the nationalist regime in Kyiv," the Russian Defense Ministry warned.
04.15.2022
20:51
Ukrainian 'middle finger' stamp already a collector's item
A stamp depicting an Ukrainian soldier giving the middle finger to the Moskva, a Russian warship that sunk Thursday, has become an instant collector's item, after a run on post offices across Ukraine saw 1 million copies sold.
At the central post office in Kyiv, hundreds of Ukrainians queued for several hours to get their hands on the postage stamp, which had sold out late Friday afternoon. 
"This boat was their biggest, it was worth around 750 million dollars, they bet everything on it and we destroyed it for them," said 22-year-old Loury Kolessan, who waited two and a half hours to buy 30 stamps. 
"It's a new stage of the war, that of victory," he said. 
The stamp was designed by a Lviv cartoonist Boris Groh in a competition organised by La Poste, which saw more than 500 submissions. 
Russia has previously said the Moskva sunk off the coast south of Odesa on Thursday after a fire on board. But a US official said Friday they believed the vessel was hit by a Ukrainian anti-ship missile. 
04.15.2022
20:20
Shelling in Kharkiv claims multiple lives
The governor of the Kharkiv region says seven people, including a seven-month-old child, have been killed in shelling of a residential area in the city. 
34 others were wounded, Oleh Sinehubov said Friday in a Telegram post. 
Kharkiv, Ukraine's second-largest city, has been shelled heavily and suffered numerous rocket attacks since the outbreak of war. 
The city's location 40 kilometres (25 miles) from Russia and proximity to separatist regions in the east of Ukraine means it is a strategic target. 
04.15.2022
20:01
Russia-backed separatists in Mariupol 
Military units of the breakaway Donetsk People's Republic in Ukraine have taken over parts of Mariupol, following an assault by Russian marines. 
"I came here as a volunteer because I understand the situation," said Andrey, one of the fighters, to the Associated Press. "If not people like us, then who?"
The separatist said school children back in Russia had been sending him drawings. 
"It's nice, you know. Lifts the spirits. If, god willing, I stay alive, I'll save these for memories," said Andrey.
(AP)