Ukraine war: Zelenskyy demands tough global response for "Russian war crimes"
Comments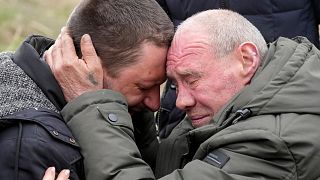 -
Copyright

AP Photo/Efrem Lukatsky
The war in Ukraine is now well into its sixth week, and taking on a new dimension with growing evidence of human rights atrocities by Russian troops as they retreated from the Kyiv region and other parts of the north.
Despite Moscow's blanket denials, horrific discoveries of civilian murders and other barbaric acts are coming to light.
As Vladimir Putin's forces concentrate their offensive on eastern Ukraine, NATO and the EU have promised Kyiv more weapons, and Western nations are tightening sanctions against Moscow.
Follow the updates from Saturday as they unfolded in our blog below, and watch the latest live TV coverage in the video player above.
04.09.2022
09:54
Saturday's key points: 
Ukrainian President Volodymyr Zelenskyy says he wants a tough global response to Russia after its forces fired a missile at a crowded train station, killing at least 52 people in Kramatorsk.
British Prime Minister Boris Johnson and Austrian Chancellor Nehammer both visited Ukraine on Saturday. Johnson promised more military hardware; Nehammer said Austrian diplomats would return to Kyiv.
An international fundraising effort called "Stand Up for Ukraine" lead by the EU and Canada has raised €10.1 billion.
Ten humanitarian corridors have been opened in the Donbas region on Saturday to let civilians leave the area ahead of an expected major Russian military offensive. 
Britain's Ministry of Defence says Russian naval vessels have continued firing cruise missile's into Ukraine's Donbas region, and continues to hit non-combatants too.
US officials say the Pentagon has determined that some of the Russian combat units that retreated from the Kyiv area in recent days are so heavily damaged and depleted that their combat utility is in question.
Visiting Kyiv on Friday, European Commission President Ursula von der Leyen handed over a questionnaire that could kickstart his country's membership in the bloc.
The leader of Poland's ruling conservative party Jaroslaw Kaczyński has criticised his ally, Hungarian nationalist Prime Minister Viktor Orbán over his refusal to condemn Vladimir Putin for the invasion of Ukraine. 
04.09.2022
19:40
Search for bodies in Borodyanka
Firefighters searched for bodies in the debris of destroyed buildings in a town near Kyiv, which had been targeted by Russian airstrikes during its invasion of Ukraine.
Using heavy machinery the emergency services sifted through the rubble of buildings and among burned-out cars looking for missing residents of Borodyanka.
The town had been severely damaged when it was bombarded by a wave of missiles in March.
(Euronews)
04.09.2022
19:12
Austria plans to send diplomats back to Kyiv
Austrian diplomats, evacuated from Kyiv to an outpost in the far west of Ukraine before the start of the war, will soon return to the capital city. 
Chancellor Karl Nehammer made the announcement on a trip to Ukraine on Saturday, where he met President Zelenskyy.
Staff have been working in the western city of Uzhhorod near the border with Slovakia. 
"Since the situation around Kyiv has now stabilized somewhat, the Austrian embassy's team will resume its work in the Ukrainian capital" said Nehammer, adding that it was a sign of Austria's "full support for Ukraine at this very difficult time."
The European Union also has returned its ambassador to Kyiv and Italy also reportedly plans to reopen its embassy there.
(AP)
04.09.2022
19:05
Germany 'has almost reached a limit' on weapons it can send to Ukraine
Germany has almost exhausted its options for sending military equipment to Ukraine drawn from its own stores.
However the German army, the Bundeswehr, is working to make deliveries directly from the arms industry according to Minister of Defence Christine Lambrecht.
"For deliveries from Bundeswehr stocks, I must honestly say that we have reached a limit in the meantime," the minister told the Augsburger Allgemeine newspaper on Saturday. 
The German army must maintain its capacity for action and be able to "guarantee the defense of the country and of the Atlantic Alliance" (NATO), she added. 
"But that doesn't mean we can't do more for Ukraine, so we've clarified what industry can provide directly" in Kyiv, Lambrecht continues.
Until the Russian invasion on 24 February, Germany was reluctant, for historical reasons, to send arms to Ukraine, which demanded them in the face of rising tensions with Moscow.
Chancellor Olaf Scholz then made a U-turn and Ukrainian forces have already received anti-tank weapons, missile launchers and surface-to-air missiles from Berlin.
But the conflict in Ukraine has also cast a harsh light on the "alarming" state of the Bundeswehr, according to Bundestag  defense commissioner Eva Högl, while one of the top brass spoke of a army "more or less dry".
(AFP)
04.09.2022
17:53
German demonstrators stage 'die-in'
Several hundred people in Hamburg staged a 'die-in' against Russia's war in Ukraine on Saturday. 
Some of the demonstrators re-enacted gruesome images of civilians killed in the Kyiv suburbs of Bucha, Irpin and Hostomel.
04.09.2022
17:05
Ukraine fundraising event nets more than 10 billion euros
An international fundraising event has generated €10.1 billion to support Ukraine, European Commission President Ursula von der Leyen announced on Saturday in Warsaw.
The event, called 'Stand Up For Ukraine' raised €9.1 billion while the Commission and European Bank for Reconstruction and Development EBRD is adding another billion euros for a total of €10.1 billion. 
Von der Leyen was joined at the event by Polish President Andrzej Duda and -- remotely -- by Canadian Prime Minister Justin Trudeau and Ukrainian President Volodymyr Zelenskyy.
Saturday's pledging event was held in Warsaw because more than 2.5 million of the 4.4 million people who have fled Ukraine since Russia's invasion began entered Poland. Many have stayed though some have moved on to other countries.
Convened jointly by von der Leyen and Trudeau, it was meant to prompt political leaders and global celebrities to provide funding and other donations for the people of Ukraine.
(AFP, AP)
04.09.2022
16:58
Boris Johnson in Ukraine for talks with Zelenskyy
UK Prime Minister Boris Johnson has traveled to Ukraine on Saturday to meet with President Volodymyr Zelenskyy in show of solidarity.
The two leaders will discuss the "UK's long term support to Ukraine'' including a new package of financial and military aid, the prime minister's office said.
The visit comes a day after Johnson pledged another 100 million pounds (€120 million) in high grade military equipment to Ukraine, saying Britain wants to help Ukraine defend itself from continuing Russian assaults.
The deputy head of the Ukrainian presidential office, Andrij Sybiha, said the two leaders are meeting in Kyiv.
Speaking Friday at a news conference with German Chancellor Olaf Scholz, Johnson said he would give Ukraine's military more Starstreak anti-aircraft missiles, another 800 anti-tank missiles and precision munitions capable of lingering in the sky until directed to their target.
He also promised more helmets, night vision and body armor. The items were in addition to some 200,000 pieces of non-lethal military equipment from the UK that had already been promised.
(AP)
04.09.2022
15:19
Ten humanitarian corridors to open on Saturday
Ten humanitarian corridors for civilian evacuations are to open in Ukraine's east on Saturday, according to Ukraine's Deputy Prime Minister Iryna Vereshchuk.
The corridors will allow residents to leave a number cities in the regions of Donetsk, Luhansk and Zaporizhzhia.
Those in Mariupol, Enerhodar, Tokmak, Berdyansk and Melitopol will be able to evacuate to the city of Zaporizhzhia, while those in Severodonetsk, Lysychansk, Popasna, Girske and Rubizhne can evacuate to the city of Bakhmut in the Donetsk region.
(AP)
04.09.2022
14:57
Ukraine is "always ready" to hold talks with Russia
Ukraine is "always ready" to hold talks with Russia, says President Zelenskyy, even after talks were stalled after the discovery of atrocities in liberated Ukrainian cities. 
Zelenskyy made the comments on Saturday during a visit by Austrian Chancellor Karl Nehammer to Kyiv and Bucha. 
"We are ready to fight and at the same time seek diplomatic ways to stop this war. For the moment, we are considering a parallel dialogue," he said.
Meanwhile Austria's leader says he expects more European Union sanctions against Russia but is defending his country's opposition so far to cutting off deliveries of Russian gas.
At a press conference, Nehammer told journalists that Austria will "continue to ratchet up sanctions inside the European Union until the war stops" and that a package of sanctions imposed this week "won't be the last one."
He acknowledged that "as long as people are dying, every sanction is still insufficient."
Austria, which gets most of its gas from Russia, is one of the countries that have been resisting a halt to deliveries. Questioned about that Saturday, Nehammer said that EU sanctions are becoming increasingly "accurate" but that "sanctions are effective when they hit those they are directed against, and don't weaken those imposing sanctions against the one who is conducting war."
Austria is militarily neutral and not a member of NATO.
(AFP, AP)
04.09.2022
14:05
Odesa curfew announced
Authorities in the Ukrainian city of Odesa have announced a curfew which comes into effect on Saturday evening and lasts through until Monday morning.
It comes after Friday's strike on Kramatorsk train station, with officials saying that "a threat of missile attack hovers over Odesa" too.
"Due to the possibility of a missile attack on Odessa, based on my order, on the territory of the city and Odesa region, a curfew was introduced from 2100 9th April to 0600 April 11th" says Maksym Marchenko, the Governor of Odesa district. 
(AP, AFP)