Ukraine war: Death of 117 children is 'the price of procrastination' over Russia
Comments
By Euronews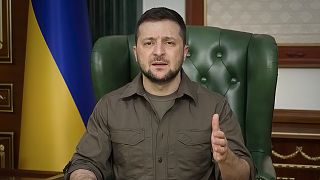 Ukraine's president Volodymyr Zelenskyy says 117 children have now been killed since Russia began its invasion of his country.
Zelenskyy made the revelation as he was addressing Italy's parliament - his latest attempt at trying to drum up support for Kyiv.
He called the death of more than a hundred youngsters the "price of the procrastination on pressuring Russia to stop this war".
Zelenskyy also drew multiple comparisons between Ukrainian and Italian cities to further shed light on the gravity of the conflict.
"Mariupol is completely destroyed – the city had half a million people, close to what you have in Genoa… imagine a destroyed Genoa, where people are trying to escape, by car or foot.
"Kyiv has an importance for us like Rome has an importance for you," he added. "It now deserves to live in peace, like Rome deserves to live in peace."
He reminded Italian politicians of Ukraine's help to Italy at the start of the COVID pandemic and used it to call for tougher sanctions on Russia.
"We helped you, we sent doctors and medical staff to Italy to help you during the pandemic… [we need] more sanctions and pressure."
"The consequences of that war are being felt, not just in Europe… how can Ukraine grow a harvest? The enemy is deliberately ruining our fields."
Following rapturous applause, Italian Prime Minister Mario Draghi thanked Zelenskyy for his "extraordinary" speech, praising the "courage and determination" of Ukrainians.
"Today, Ukraine is not only defending itself but is also defending our peace, our freedom, our security," Draghi added.
He took care to emphasise Italy's "huge" solidarity towards Ukrainian refugees, having "opened wide [its] doors" to those escaping the war-torn country and thanking volunteers, regions and civil protections for their "incessant work and professionalism".
"The government and parliament of Italy are on the frontline of support for Ukraine," Draghi claimed. "[We] will offer financial help, and have answered to the request for support and assistance against the Russian invasion."
Draghi emphasised Italy's commitment to sanctions, stating how "another measure on energy to overcome dependence on Russia" had been adopted and that the "ultimate objective [is] to push Russia to stop the war and to sit down sincerely at the negotiating table" while commending the EU's "unity" in the face of the invasion.
"To President Zelenskyy, I want to say: Italy is close to Ukraine in this process, Italy wants Ukraine in the EU."
"Faced against the growing isolation of President Putin we need to show the international community is unified," Draghi concluded. "Ukraine has the right to be safe."