Stop Putin or Ukrainian blood will be on your hands, says protester
Comments
By Euronews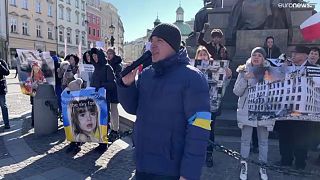 Copyright

Credit: Euronews/Valérie Gauriat

-
Ukrainian refugees who fled to Krakow, Poland, were among those at a protest calling for the West to do more to stop the bloodshed back home. 
They reiterated calls for the transatlantic military alliance NATO to impose a no-fly zone over Ukraine.
Oleksandra Solovka recently arrived from Kyiv. Her husband stayed behind to fight. 
"Help us protect the lives of our children and women," said Solovka. "And to protect the whole of Europe. Because it's a war against humanity and against life worldwide."
Adrian Harasyn, a Ukrainian who lives in Poland, was more direct.
"Please, the whole world! Don't keep silent!" he said. "Please help. We need your help. I say too, is for all. What I say is for Biden, for Macron, for Johnson and for the people. I want to say to you all for you: 'if you don't stop Putin, the blood of the Ukrainian people will be on your hands'."