Ukraine war: UN overwhelmingly condemns invasion as Russia and Ukraine dispute who controls Kherson
Comments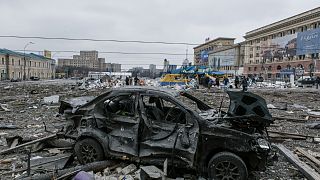 Copyright

AP Photo/Pavel Dorogoy

-
The United Nations General Assembly overwhelmingly demanded an immediate halt to Russia's invasion of Ukraine.
The vote on the resolution, entitled "Aggression against Ukraine," was 141-5 with 35 abstentions. Russia got support for its appeal to vote against the resolution only from Belarus, Syria, North Korea and Eritrea while China and India abstained, as expected.
The vote came after a day of intense bombardment across Ukraine as Vladimir Putin's forces try to break the country's resistance. 
The second city Kharkiv has come under sustained attack, and there has been a concerted effort by the Russians to take towns and cities in the south.
Ukraine's emergency service has said more than 2,000 civilians have been killed since the invasion began, a claim that cannot be verified.
Follow our live blog below for the latest updates:
03.02.2022
06:52
Wednesday's key points: 
The UN General Assembly has voted overwhelming to demand a Russian withdrawal from Ukraine.
Kharkiv has come under more intense bombardment, including reported attacks on the regional police and intelligence headquarters and a university. Earlier, Russian paratroopers landed in the city.
The Russian army says it has captured Kherson in the south, a claim disputed by Ukrainian forces. Russian forces have pressed their assault on other towns and cities across the country. "The shelling does not stop," said one mayor.
Ukraine's emergency service says 2,000 civilians have been killed since last week's invasion. The claim cannot be verified.
Russia finally admitted to some losses, saying 498 of its soldiers had died. Ukraine had earlier said more than 6,000 Russian troops have been killed.
Ukraine's President Zelenskyy has said Putin's forces have orders to "erase our history", fearing Ukraine's religious and cultural sites may be targeted.
US Secretary of State Antony Blinken will start a five-day European tour on Thursday, visiting Belgium, Poland, Moldova and the Baltics. 
Jailed Russian opposition leader Alexei Navalny has called on Russians to protest daily against the war in Ukraine "unleased by our obviously insane czar".
Latest UN figures say 874,000 refugees have crossed into neighbouring countries since last Thursday.
Russian and Belarusian officials say they are standing by for new talks, but expectations remain low.
US President Joe Biden says the US will ban Russian planes from its airspace, following the EU and Canada.
Athletes from Russia and Belarus are to be allowed to compete at the Paralympic Games, but as neutrals.
03.02.2022
22:59
Russia and Ukraine dispute who controls Kherson
A Russian official says troops have taken the Ukrainian port city of Kherson — a claim that the Ukrainian military denies.
The city is under Russian soldiers' "complete control," Defense Ministry spokesman Igor Konashenkov said Wednesday.
He said that the city's civilian infrastructure, essential facilities and transport are operating as usual and that there are no shortages of food or essential goods.
Konashenkov said talks between the Russian commanders, city administrations and regional authorities on how to maintain order in the city were underway Wednesday. The claims could not be immediately verified.
A senior US defence official said Wednesday that they have seen claims that the Russians have taken Kherson, but that the Ukrainian military is rejecting that claim.
"Our view is that Kherson is very much a contested city at this point," said the official, who spoke on the condition of anonymity to make military assessments.
03.02.2022
22:09
Malta suspends 'golden passport' scheme for Russian and Belarusian citizens
Malta's government says it has decided to suspend the granting of so-called "golden passports" to Russian and Belarusian nationals.
Residency documents or nationality permits will not be granted to foreign investors from Russia or Belarus until further notice, the government said
Authorities said the decision late on Wednesday was taken due to "recent developments" amid Russia's invasion of Ukraine.
The government has initially resisted growing pressure to block applicants amid the war in Ukraine.
03.02.2022
21:50
UK hails 'largest referral in the history of the ICC'
The British government announced that it has called on the International Criminal Court to "investigate Russia's war crimes."
"With 37 countries joining the UK, it is the largest referral in the history of the ICC," it said.
"State party referral, made by a group of 38 countries, will enable the Prosecutor to proceed straight to an investigation, without the need for judicial approval," it added.
Foreign Minister Liz Truss said that "an investigation by the International Criminal Court into Russia's barbaric acts is urgently needed and it is right that those responsible are held to account."
Delete
03.02.2022
21:46
Blinken to travel to Belgium, Poland, Moldova, and the Baltics
The US Secretary of State Antony Blinken will visit the six European countries from 3 March to 8 March.
He will start in Belgium to participate in a NATO Foreign Ministerial, meet with EU counterparts, participate in a G7 Ministerial Meeting, and hold additional meetings with partners.
He will discuss further security assistance during his meeting with Polish leaders and also thank them for welcoming hundreds of thousands of refugees. 
In Latvia, Lithuania and Estonia he will discuss joint efforts to support Ukraine, strengthen NATO's deterrence and defense, promote democracy and human rights, and pursue deeper economic and energy cooperation with our Baltic Allies.
03.02.2022
21:27
Europe must 'invest more' to become 'power for peace': Macron
The French leader stressed that "our Europe must invest more to be less dependent on other continents and to be able to decide for itself."
"It must become a power. An economic power. An energy power. A power for peace."

Furthermore, he said, "our European defence must take a new step" so that it no longer depended on others to defend itself.

France, for its part, "will increase investment in its defence, decided in 2017" and will pursue its strategy of economic independence", he said.
03.02.2022
21:00
Macron praises Ukrainians, Zelenskyy and vows France will 'do its part' for refugees
"I salute the courage of the Ukrainian people who are resisting under fire. On behalf of the French people, I send President Zelensky France's fraternal support. He is today the face of honour, freedom and bravery," French President Emmanuel Macron said in a televised address to the nation on Wednesday evening.

"Hundreds of thousands of Ukrainian refugees are fleeing the country. They are and will be welcomed in our Union. France will do its part. To our cities, to our villages, to our associations that are mobilising: thank you," he added. 
03.02.2022
20:44
Ukrainian Defence Ministry urges citizens to "destroy" Russian rear columns
In an appeal released on social media, Ukraine's Defence Ministry urged "citizens who are in the territories temporarily occupied by the enemy" to "deprive Russian troops of logistical support"
"Do not touch the tanks," it said. "Destroy the rear columns. They follow the columns with armoured vehicles."

"If the enemy is left without fuel, ammunition, food, engineering and repair support, they'll become helpless.
"Militia. Rangers. Foresters. You know every stitch and every hole in your country. This is your time," it went on.
"The enemy must feel that every step without invitation on Ukrainian soil may be his last," it added. 
 
03.02.2022
20:31
Russia says 498 troops dead
Igor Konashenkov also said in his update that "498 Russian servicemen were killed in the performance of military duty" and a further 1,597 were injured.
This contrasts starkly with data from Ukrainian authorities which estimated on Tuesday that about 6,000 Russian forces had lost their lives.