Ukraine crisis: UK, Norway urge nationals to leave as US says invasion might be days away
Comments
By Euronews with AP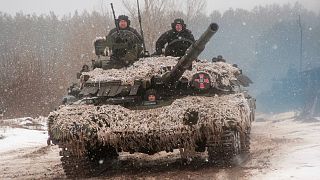 -
Copyright

AP Photo/Andrew Marienko
Britain and Norway have joined the US in urging their nationals in Ukraine to leave the country as soon as possible amid fears of a Russian invasion.
Other countries, like Israel and Montenegro, have also issued travel warnings, advising their citizens already in the country to consider leaving "temporarily" or "to avoid approaching centres of tension in any case".
Their decision comes as Washington warned that a Russian invasion of Ukraine could come within the week, with national security adviser Jake Sullivan saying all the pieces were in place for a major military operation that could start "rapidly" and possibly before the end of the Games on Jan. 20.
He conceded however that the US did not have definitive information that an invasion has been ordered by Russian President Vladimir Putin.
"We continue to see signs of Russian escalation, including new forces arriving at the Ukrainian border," he added, ramping up the urgency of earlier U.S. warnings. "As we've said before, we are in the window when an invasion could begin at any time should Vladimir Putin decide to order it."
He reiterated the call issued a day earlier by President Joe Biden that US nationals leave Ukraine as soon as possible.
Britain and Norway issued similar calls on Friday with the UK's Foreign Office advising "against all travel" to the eastern European country.
"British nationals in Ukraine should leave now while commercial means are still available," it added.
"Since January 2022, the build-up of Russian forces on Ukraine's border has increased the threat of military action," it stressed, adding that "any Russian military action in Ukraine would severely affect the British Embassy Kyiv's ability to provide any consular assistance".
It urged anyone choosing to remain in the country to "remain vigilant throughout due to potential combat operations" and to ensure their travel documents are up to date.
The Norwegian Ministry of Foreign Affairs cited the "serious and unpredictable security situation" as it called on its nationals to leave Ukraine.
It also advised against any trip to Russia "closer than 250 km from the Ukrainian border", and to Belarus, except the capital Minsk.
Peter Stano, spokesperson for the European Commission's External Affairs service meanwhile told Euronews: "We continue to assess the situation as it develops, in line with the duty of care we have towards our staff and in close consultation and coordination with the EU Member States.
"We are not evacuating. For the time being, the non-essential staff has been given the opportunity to telework from outside the country," he added.
Ukraine had earlier downplayed the importance of Biden's call to his compatriots to leave the country amid fears of a Russian invasion.
"There is nothing new in this statement," Ukrainian Foreign Minister Dmytro Kuleba said on Friday.
Kyiv had already considered exaggerated the decision of the United States to evacuate the relatives of embassy staff and the American analysis of the imminence of a Russian offensive.
Meanwhile, the Russian embassy in Ukraine has reduced its diplomatic staff out of fear of "provocations by the Kyiv regime or third countries," its Ministry of Foreign Affairs confirmed on Saturday morning.
Some believe that the move was decided upon in order to incite further panic among Ukrainians and the country's Western allies.
No breakthrough in Berlin talks
The US president's comments came after a day of diplomatic efforts in Europe to ease tensions over Ukraine -- where Russia has massed more than 100,000 troops near its border -- with little signs of making headway.
Foreign policy advisers from Germany, France, Russia and Ukraine, who met in Paris last month, held another round of talks in Berlin. They reported no progress on the implementation of a 2015 peace agreement that helped end full-scale hostilities between Ukrainian forces and Russia-backed separatists in eastern Ukraine.
In Moscow, Britain's defence minister Ben Wallace met his Russian counterpart Sergei Shoigu on Friday, in an attempt to make more diplomatic progress than the UK's top envoy achieved the previous day.
Foreign Secretary Liz Truss openly clashed with Sergei Lavrov after talks that the Russian foreign minister described as "quarrelsome".
Truss again warned that an attack on Ukraine would "have massive consequences and carry severe costs", and called on Russia to "desist from the threats" and respect international agreements.
In response, Lavrov slammed Western "ideological approaches, ultimatums and moralising" as "a road to nowhere", and briefly walked out of their joint news conference.
In Brussels, NATO Secretary-General Jens Stoltenberg said he had reiterated an offer to Russia for continued dialogue on how to "find a diplomatic way forward". But he stressed the military alliance would not compromise on core principles.
Appearing alongside him, British Prime Minister Boris Johnson said "the stakes are very high and this is a very dangerous moment, and at stake are the rules that protect every nation, every nation big and small".
A NATO official told Euronews on Friday evening that "Allies continue to consult closely about Russia's continued military build-up in and around Ukraine. All Allies have been clear that Russia must de-escalate."
Poland thanks UK for support
Johnson travelled from Brussels to Warsaw for talks with Polish Prime Minister Mateusz Morawiecki.
The two leaders went to meet British soldiers stationed near Poland's capital as part of a NATO mission to augment the alliance's eastern flank. Poland borders Belarus, Ukraine and Russia's Kaliningrad region.
"Putin's political goal is to break up NATO. That's why we need to stay close together," Morawiecki said.
"On one side of the scales, there is freedom and European security. On the other side, there is destabilization and the things that the Kremlin is cooking up," he said.
"We want to build bridges and connections with Russia, but we want to build them on the foundation of peace," the Polish prime minister said.
Later he posted on Twitter to thank Johnson for Britain's support, saying "the United Kingdom perfectly understands the consequences of Russia's aggression".
Also on Thursday, Russia and Belarus began joint military exercises on Belarusian territory due to last 10 days -- Russia's defence ministry describing their purpose as defensive.
Russia's military buildup on the Ukrainian border has prompted threats of more sanctions from the West should Russia attack its neighbour. Moscow denies planning an invasion.
Meanwhile, more NATO forces also are on the move, heading to the alliance's eastern borders, while Britain is putting 1,000 troops on standby to respond to a possible humanitarian crisis.
Moscow wants guarantees that NATO will halt its eastward expansion, rule out membership for Ukraine and other ex-Soviet countries, and roll back military deployments in Europe.