Ukraine crisis: British and Russian foreign ministers clash amid drive to ease tensions
Comments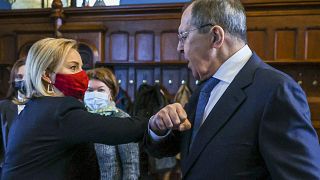 -
Copyright

Russian Foreign Ministry Press Service via AP
Diplomatic moves to ease tensions over Ukraine intensified on Thursday -- but so too did military manoeuvres on both sides amid the biggest security crisis between Russia and the West since the Cold War.
In Moscow, the UK's top diplomat openly clashed with her Russian counterpart in an encounter that gave little sign of a thawing in relations between their two countries -- or of progress on the Ukrainian issue.
Meanwhile, NATO's chief said he had reiterated an offer to Moscow for renewed dialogue. It came as thousands of Russian troops began joint exercises in Belarus as part of a military buildup near Ukraine.
Also on Thursday, foreign policy advisers from Germany, France, Russia and Ukraine were due to meet in Berlin in the "Normandy format" to explore a potential revival of peace efforts.
Moscow wants guarantees that NATO will halt its eastward expansion, rule out membership for Ukraine and other ex-Soviet countries, and roll back military deployments in Europe.
Russia's troop deployments to Belarus and on its own border with Ukraine have prompted threats of more sanctions from the West should Russia attack its neighbour. Moscow denies planning an invasion.
Truss and Lavrov clash in Moscow
Russian foreign minister Sergey Lavrov and Britain's foreign secretary Liz Truss exchanged put-downs after their meeting in Moscow on Thursday afternoon.
Lavrov described their two-hour session as a quarrelsome discussion and said that relations between the two countries are "at their lowest in many, many years".
"I am disappointed," he said, "that our conversation was the dialogue of someone mute with someone deaf."
"We appear to listen, but we do not hear each other."
Lavrov then briskly walked out, leaving Truss to face the press alone.
Truss responded by saying she "certainly wasn't mute".
"I put forward the UK's point of view on the current situation as well as seeking to deter Russia from an invasion of Ukraine," she stated at the press conference following the meeting.
The combative meeting between the two is in sharp contrast with what was perceived as a friendly five-hour meeting between Russian President Vladimir Putin and his French counterpart Emmanuel Macron.
Some believe this could be a part of a strategy to drive a wedge between the NATO allies.
Truss, who is on a two-day visit to Russia's capital, again warned that an attack on Ukraine would "have massive consequences and carry severe costs".
"I can't see any other reason for having 100,000 troops stationed on the Ukrainian border apart from to threaten Ukraine. And if Russia is serious about diplomacy, they need to move those troops and desist from the threats," she told a joint news conference following talks with her Russian counterpart Sergei Lavrov.
She urged Moscow to abide by international agreements that commit it to respecting Ukraine's independence and sovereignty.
Russia's foreign minister retorted that Moscow would not accept Western lecturing. "Ideological approaches, ultimatums and moralising is a road to nowhere," Lavrov said.
He rejected the UK's demand for a Russian military withdrawal as inappropriate and pointed at British and NATO troop buildups in Eastern Europe, accusing Western politicians of fanning tensions for domestic political purposes.
Britain's foreign secretary's visit, to be followed on Friday by the UK defence minister, is the first to Moscow by a top UK envoy in more than four years. Ties were particularly badly strained by the March 2018 poisoning of former Russian spy Sergei Skripal in England.
In Brussels, NATO Secretary-General Jens Stoltenberg said he had reiterated an offer to Russia for continued dialogue on how to "find a diplomatic way forward", in a letter to the Russian foreign minister.
But he stressed that the military alliance would not compromise on core principles such as "the right of each nation to choose its own path and NATO's ability to protect and defend all allies".
Appearing alongside the NATO chief, British Prime Minister Boris Johnson said "the stakes are very high and this is a very dangerous moment, and at stake are the rules that protect every nation, every nation big and small".
Johnson, who flew later to Warsaw, said on Wednesday that the UK was ready to deploy an extra 1,000 soldiers in the event of a "humanitarian crisis" linked to the tensions in Ukraine.
Russia and Belarus begin joint drills
Earlier on Thursday, the defence ministry in Moscow confirmed that the Russian and Belarusian armies have begun joint military exercises in Belarus due to last 10 days -- describing their purpose as defensive.
Lavrov said Russia has planned from the start to move its troops back after the end of the drills. Neither country has specified the resources involved, but the West has claimed that 30,000 Russian troops have been deployed to Belarus to take part.
Pentagon spokesman John Kirby told a briefing on Wednesday the Russian troop buildup was "destabilising and unnecessary", claiming they had seen evidence that Russia had sent additional resources in the previous 24 hours.
Russia and Belarus carried out drills involving paratroopers and air patrols ahead of the exercises. The defence ministries in Moscow and Minsk gave details of resources and released videos showing drills taking place.
Moscow has moved troops from Siberia and the Far East to Belarus for the joint drills, and said on Tuesday that it had dispatched six large landing craft to the Black Sea region.
NATO steps up troop deployment
The Pentagon, which says the US is seeking "a de-escalation" of tensions, confirmed on Wednesday that it was sending extra soldiers to Poland and Romania. Meanwhile, Germany has bolstered troop numbers in Lithuania — where NATO troops are already stationed, as they are in Estonia, Latvia and Poland.
NATO is bolstering defences from the Baltic states, down around Ukraine's western border and into the Black Sea region in Bulgaria. The 30-nation military alliance is also mulling whether to set up a longer-term military presence in Hungary and Slovakia.
Hungary's Foreign Minister Péter Szijjártó told Euronews on Wednesday that his country will not accept further NATO troops on its soil as part of manoeuvres over the Ukraine crisis, as the Hungarian armed forces were enough "to guarantee the security of the country".
On Wednesday, Spanish Foreign Minister José Manuel Albares visited Kyiv to meet with his Ukrainian counterpart, Dmytro Kuleba. Albares urged dialogue and de-escalation, while Kuleba called for more sanctions against Russia and said "there is a chance to resolve the crisis through diplomatic means".
France's President Macron spoke by phone on Wednesday with US President Joe Biden to brief him on his meetings in Moscow and Kyiv, the White House said.
Macron held over five hours of talks Monday with President Vladimir Putin before meeting with Ukrainian President Volodymyr Zelenskyy in Kyiv the next day, on a diplomatic tour that also took him to Berlin.
Macron said Putin told him he would not initiate an escalation, but also acknowledged that it will take time to find a diplomatic solution.