UK and Canada join planned diplomatic boycott of Beijing Winter Olympics
Comments
By Euronews with AP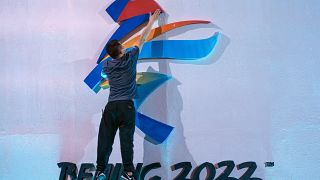 Copyright

AP Photo/Mark Schiefelbein, File

-
The United Kingdom and Canada have become the latest countries to join a diplomatic boycott of the 2022 Winter Olympics in Beijing.
British Prime Minister Boris Johnson confirmed on Wednesday that government ministers would not attend the games over human rights concerns.
Johnson told MPs that he opposed boycotts involving athletes, but that Britain would "effectively" be boycotting the Olympics by not sending senior officials.
"There will be effectively a diplomatic boycott of the Winter Olympics in Beijing," he said, "no ministers are expected to attend and no officials."
"The government has no hesitation in raising these issues with China, as I did with President Xi the last time I talked to him," he added.
The UK and Canada now join the United States, Australia, and Lithuania in the diplomatic boycott.
China has remained unconcerned by the decisions and has dismissed the planned boycott as a "farce".
The White House had confirmed on Monday that its officials would be absent from the upcoming Winter Olympics -- scheduled to take place from 4 to 20 February 2022.
New Zealand said it informed Beijing earlier that it wouldn't be sending any officials due to pandemic travel restrictions but had also communicated its human rights concerns.
Western governments have long criticized Beijing for human rights abuses against its Uyghur minority in northwest Xinjiang province and suppression of democratic protests in Hong Kong.
On Thursday, an independent UK body concluded that the Chinese government has committed genocide and crimes against humanity on the Uyghur people.
Some rights groups have called for a total boycott -- including athletes -- of the Beijing Winter Olympics.
The new German foreign minister Annalena Baerbock has called for a joint response to the Beijing Winter Olympics, saying Germany was deciding how to proceed "in unison with our European friends".
Her French counterpart Jean-Yves Le Drian also said a common European stance regarding a diplomatic boycott of the Olympics was needed.
Le Drian spoke alongside Baerbock shortly after French Education and Sports Minister Jean-Michel Blanquer said Paris would not join such a boycott.
In October, the European Parliament voted for its diplomats to boycott the Winter Olympics, although the resolution is not binding.
On Thursday, Chinese Foreign Ministry spokesperson Wang Wenbin told reporters that Beijing doesn't fear a potential chain reaction, while it previously vowed to respond with "firm countermeasures."
Wang said China had not extended invitations to the US, Canada, or the UK and that it "doesn't matter if their officials come or not."
"Sports has nothing to do with politics," Wang said. "It is they who have written, directed, and performed this farce."
Watch the full interview with Euronews journalist Angela Barnes in the video player above.