US teenager acquitted of all charges in Kenosha shootings
Comments
By AP & Euronews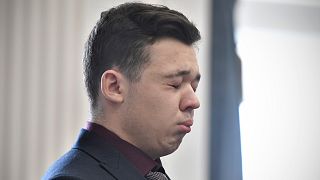 Copyright

Sean Krajacic/The Kenosha News via AP, Pool

-
US teenager Kyle Rittenhouse has been acquitted of all charges after pleading self-defence.
He was on trial for killing two men and wounding a third with a rifle during the protests that erupted in Kenosha, Wisconsin in the summer of 2020 after a Black man, Jacob Blake, was shot by a white police officer.
The jury came back with its verdict after close to 3 1/2 days of deliberation. Rittenhouse, 18, could have gotten life in prison if found guilty of the most serious charge against him.
Rittenhouse is white, as were those he shot. The jury appeared to be overwhelmingly white. While he said he acted in self-defence, the prosecution argued he instigated the bloodshed.
Some Americans had condemned Rittenhouse while others said he had exercised his right to have a gun.
US President Joe Biden urged people to "express their views peacefully" despite anger surrounding the verdict.
"Violence and destruction of property have no place in our democracy," Biden said.
Wisconsin Lt. Gov. Mandela Barnes, who is Black and a Democratic candidate for U.S. Senate, denounced the outcome.
"Over the last few weeks, many dreaded the outcome we just witnessed," Barnes said.
"The presumption of innocence until proven guilty is what we should expect from our judicial system, but that standard is not always applied equally. We have seen so many black and brown youth killed, only to be put on trial posthumously, while the innocence of Kyle Rittenhouse was virtually demanded by the judge."
Right-leaning political figures gave a different message:
"All of us who knew what actually happened in Kenosha last year assumed this would be the verdict," tweeted Republican former Wisconsin Gov. Scott Walker. "Thankfully, the jury thought the same."
The case was part of an extraordinary confluence of trials that reflected the deep divide over race in the United States: In Georgia, three white men are on trial in the killing of Ahmaud Arbery, while in Virginia, a trial is underway in a lawsuit over the deadly white-supremacist rally held in Charlottesville in 2017.
The bloodshed in Kenosha took place during a summer of sometimes-violent protests set off across the U.S. by the killing of George Floyd in Minneapolis and other cases involving the police use of force against Black people.