Bastille Day: What are the July 14 celebrations all about?
Comments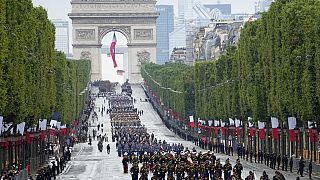 -
Copyright

Michel Euler/AP
Bastille Day is celebrated with parades and fireworks across France every 14 July. But what is the history of this national holiday?
It commemorates the storming of the Bastille prison in 1789 by a mob of Parisians during the opening stages of the French Revolution.
The political prison and military fortress was seen as a symbol of the Bourbon's tyranny. Its fall thus signalled the end of absolutism.
While last year's military parade was cancelled due to the pandemic, traditional festivities were back in full speed this Wednesday despite COVID-19 curbs.
Thousands of troops marched in a Paris parade down the prestigious Champs Elysées avenue, warplanes roaring overhead.
President Emmanuel Macron rode atop a military reconnaissance vehicle escorted by uniformed guards on horseback.
Watch the video above to learn more.