EURO 2020 latest: Belgium beat Denmark after pause to applaud Eriksen
Comments
By Euronews with AP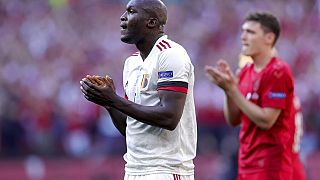 What is happening at EURO 2020 on Thursday?
What are today's key EURO 2020 talking points?
The play was paused after 10 minutes in the Denmark-Belgium match to pay tribute to Danish star Christian Eriksen, who collapsed with a suspected heart problem in his country's opening match against Finland. Players and fans at Parken Stadium rose to applaud Eriksen, who will be fitted with an implantable device to monitor his heart rhythm, the Danish soccer federation said on Thursday.
The issue of high-profile footballers like Cristiano Ronaldo and Paul Pogba moving bottles of Coca-Cola or Heineken -- deliberately placed in front of the players at press conferences -- is continuing to cause a stir. One expert told Euronews it showed the balance of power had shifted from sponsors to the athletes. 
How do the tables look after today's games?
What happened on Wednesday?
Italy became the first team to secure its place in the final 16 with a decisive 3-0 victory over neighbours Switzerland — a turnaround from their failure to qualify for the 2018 World Cup, but that in itself was a shock.
Fellow Group A team Wales notched up their first win of the competition with a 2-0 victory over Turkey bringing its point tally to 4 while Switzerland and Turkey languish behind with 1 and 0 points respectively.
Russia, from Group B, boosted its hopes of qualifying for the knockout stages by beating Finland 1-0.
Latest pictures from EURO 2020