More than 90% of COVID cases in UK are Delta variant, health minister says
Comments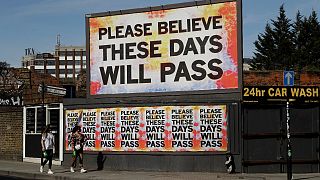 More than 90 per cent of coronavirus cases in the UK are the Delta variant, the country's health minister has said.
Speaking before a parliamentary committee on Thursday, Matt Hancock said the Delta variant, which first originated in India, "now comprises 91 per cent of new cases in the UK".
Hancock said the data was based on an assessment he had seen on Wednesday evening.
The development comes as the UK contends with a recent rise in COVID-19 cases.
Government figures on Wednesday showed that Britain had recorded its highest daily coronavirus cases since late February, suggesting the Delta variant was spreading rapidly across the country.
A total of 7,540 new infections were recorded, representing the biggest daily increase since February 26.
Meanwhile a total of 123 people entered the hospital with symptoms related to coronavirus, while the number of people who died after testing positive for COVID-19 rose by six.
June lifting of restrictions could be at risk
Earlier this month, Hancock said the UK's vaccination programme appeared to be helping to break the link between new cases and deaths, with hospitalisations remaining low, despite the spread of the Delta variant.
Hancock told MPs on Thursday that the government was watching "hospitalisation data like a hawk".
The British government is expected to announce next week whether it will be moving forward with plans to fully lift coronavirus restrictions on June 21.
Hancock said lifting restrictions would largely depend on how the link between COVID cases and hospitalisations evolves.
"The link is falling and the question is how far is it falling and how fast," he said.
Government was warned of high death toll
During Thursday's hearing, Hancock also told MPs that the government had been warned in January last year that as many 820,000 people could die in the UK due to the coronavirus pandemic.
He said that by March 2020 it was clear to officials that the prediction could come true if no action was taken.
It had initially been understood that the government had enforced its first lockdown that month in response to an Imperial College London study that warned that as many as 500,000 people could die if the virus were able to spread unchecked while the UK built "herd immunity".
However, Hancock revealed that the number feared by officials was significantly higher, with the figure being calculated by the Department of Health.
Hancock said the number was calculated based on infection and death rates in the Spanish flu outbreak in 1918.
"Knowing that that was the reasonable worst case scenario, we planned for it," he told MPs.
As of Thursday evening, a total of 4,551,694 people had contracted coronavirus in the UK, with 128,124 cases resulting in death, according to an online tracker maintained by the Johns Hopkins University.