Strasbourg marks Europe Day with conference on Europe's future
Comments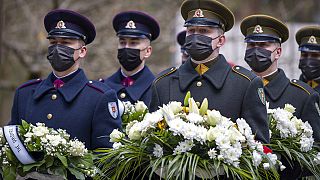 Copyright

Mindaugas Kulbis/Associated Press
The annual 9th of May Europe Day was marked in Strasbourg with the Conference on the Future of Europe.
Europe Day celebrates the anniversary of the Schuman Declaration which paved the way for unity across the bloc.
Twenty-seven Erasmus students, one per member state, also attended the event which was addressed by president of the European Commission, Ursula von der Leyen.
"I'm conscious that there's always scepticism and cynicism wherever Europe debates its future, or launches a project of this nature, so we must ensure it is not an intellectual policy exercise or a closed political compromise," she told the attendees and around 300 other citizens who followed the event remotely, with their image projected on large screens in the hall.
"We should be honest that the conference is not a panacea or a solution to every problem, and we must listen to all voices."
Sometimes considered to be the "father" of the idea of the CoFE, Macron delivered welcoming remarks at the start of Sunday's 90-minute event and drew parallels from around the world.
"We must also find efficiency and ambition again, to be able to decide more quickly and above all decide more strongly when faced with crises and adversity," he said.
"I celebrate that the United States of America inspires itself from Europe to become a society with more solidarity, I ardently wish that we could inspire ourselves from Americans to regain the taste for the future and speed."
On the agenda were topics such as climate change, economic and social issues, digital transformation and the democratic strengthening of EU institutions.