Portugal election: Incumbent President Marcelo Rebelo de Sousa re-elected
Comments
By Euronews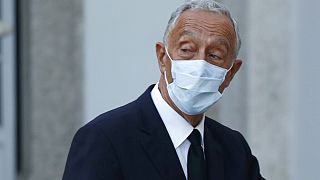 Copyright

Armando Franca/AP

-
Portugal's centre-right president, Marcelo Rebelo de Sousa, was re-elected on Sunday in an election marked by record abstention blamed on the pandemic.
Rebelo de Sousa secured 60.70 per cent of the ballot, easily clearing the 51 per cent threshold needed to avoid a run-off.
Ana Gomes, from the governing Socialist Party, came in second with 12.97 per cent, just one percentage point higher than the candidate from the far-right populist Chega party, André Ventura.
The record low turnout of 39.49 per cent is believed to be due to voters avoiding the ballot boxes for fear of coronavirus. Portugal currently has the world's worst rate of daily infections and deaths per 100,000 people, according to a tally by Johns Hopkins University.
Prime Minister Antonio Costa, from the Socialist party, "warmly" congratulated Rebelo de Sousa for his victory and "wish him all the best" for his final five-year term.
Rebelo de Sousa had been consistently leading in the polls in the run up to the election. The 72-year-old law professor and TV personality is known among the Portuguese for his easy-going style, and has sustained an approval rating of 60% or more.
He is also a former leader of the centre-right Social Democratic Party, and has worked closely with the centre-left minority Socialist governments to help tackle the pandemic.
The role of Portugal's president and head of state does not have legislative power, but can veto legislation. The president can also dissolve the legislative assemblies and grant pardons.
On Sunday, Portuguese authorities lifted restrictions on movement to encourage people to vote. Prime Minister António Costa also tweeted his encouragement, saying "unprecedented planning" had been carried out to make voting safe.
There were an increased number of polling stations to allow for the 10.8million registered voters to cast their ballot, while people were also asked to bring their own pens and disinfectant. Masks were worn at all times and social distancing was observed.
Portugal reported more than 15,300 cases of COVID-19 on Saturday - a record daily high. Another 270 people also died.