Early election called in Portugal after MPs reject Socialists' budget
Comments
By Euronews with AP, AFP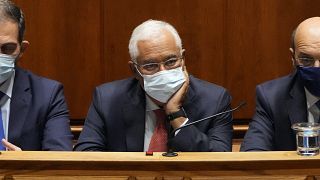 -
Portugal's president dissolved parliament on Thursday evening and announced that the country will head to the polls for snap elections on January 30.
The country was plunged into a political crisis last week when MPs rejected the 2022 state budget proposed by Prime Minister António Costa.
The decision brought an end to the minority Socialist (PS) government alliance, which had ruled Portugal since 2015.
It was the first time a budget law has been rejected in Portugal since the country became a democracy in 1974.
President Marcelo Rebelo de Sousa said during a televised address that the defeat "has totally reduced the government's support base" and that 2022 will be "a decisive year for a sustainable exit from the pandemic and the social crisis that has hit us."
The election comes at a sensitive time for the country of 10.3 million people, as it is poised to begin deploying some €45 billion in aid from the European Union to help fire up the economy after the COVID-19 pandemic.
Given the procedural requirements, a new state budget proposal may not come before parliament until April. That could put the brakes on an economic rebound.
Costa has refused to resign as interim prime minister and promised to lead the Socialists' campaign for a "reinforced, stable and lasting majority". The centre-left PS held only 108 seats in Portugal's 230-seat parliament.
Costa's party triumphed overall in last month's municipal elections but polled lower than in 2017 and suffered a surprise defeat in the capital Lisbon.
Meanwhile, the opposition Social Democratic Party is set to hold an internal leadership election in December.
Recent opinion polls suggest the Socialist Party will win re-election but will again fall short of a parliamentary majority.
The hard-left Communist Party and Left Bloc, who allied with the government up to last week, have seen their popularity dwindle to single figures in recent elections.
The traditional center-right opposition parties are in disarray. Both the main opposition Social Democratic Party and the smaller Popular Party are engaged in divisive leadership challenges.
In the last election, in 2019, 10 parties won seats in a trend toward political fragmentation that compels parties to negotiate with each other.
Most striking is the rise of Portugal's first right-wing populist party, Chega! (Enough!), which was founded just three years ago. It currently has just one lawmaker, but polls indicate it could capture as many as 20 seats in an election, potentially serving as a kingmaker.