COVID-19: Paris to shut all bars as city's alert is raised to maximum
Comments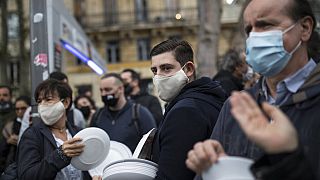 -
Copyright

Daniel Cole/Copyright 2020 The Associated Press. All rights reserved
Paris will be upgraded to the maximum alert level as the French capital and a number of other cities see a surge in cases of COVID-19.
The country's government confirmed on Sunday night that the alert level will be raised in the capital.
The French capital will close all bars from Tuesday, following similar measures in the southern city of Marseille, which closed bars and restaurants on September 26 in an effort to combat the spread of the virus.
The new restrictions will remain in place for fifteen days in Paris and the three departments in its inner suburbs.
Restaurants and bistros in Paris will be allowed to stay open if they put new sanitary measures in place, which include registering the contact details of customers and closing at 10 pm.
Restaurants in Marseille and neighbouring Aix-en-Provence will be allowed to open again under the new measures.
Fairs, congresses and trade shows will also be banned in Paris, Paris Police Prefect Didier Lallement announced on Monday.
Gyms will be closed, but venues such as theatres, cinemas and museums will remain open, he added.
Further measures for Paris were announced at a press conference on Monday:
Swimming pools will be closed to adults, but will remain open to minors;

Outdoor facilities including stadiums and training grounds will remain open with a limited capacity of maximum 1,000 people;

Capacity will be limited in shopping centres and large department stores;

University students will see classrooms limited to 50% capacity;

People in the Île-de-France region will be encouraged to work from home to reduce contact in the workplace.
Paris Mayor Anne Hidalgo incited residents to commit to following the new measures for the whole 15 days in order that "democratic, economic, cultural, social, and sporting" areas of people's lives could return.
She said Parisians must "work together to protect the most fragile" including the elderly, disabled, those who did not have a safe home environment, and isolated people.
"We are a city that is dependent on international exchange and tourism," Hidalgo said, adding the French capital's economic situation had seriously deteriorated.
Hospitalisations rise in France
Official figures published on Sunday revealed that 1,335 people are currently in intensive care due to COVID-19, 46 more than a day earlier. 32 people have died of the virus in the last 24 hours.
Speaking on public radio channel France Inter, Arnaud Fontanet, epidemiologist and member of France's COVID-19 scientific council, said the notion that the "virus has stopped circulating" in the country had "no base in epidemiology".
Health minister Olivier Véran said last week that three key COVID-19 indicators had been hit in Paris: the city has 263 new COVID-19 cases daily per 100,000 people, 105 new cases daily per 100,000 people over the age of 65, and 36% of intensive care units now treat COVID-19 patients.
Other restrictions in areas classed as maximum alert include a requirement for university lecture halls and classrooms to be restricted to 50% capacity.
Since the start of the COVID-19 crisis in March this year, at least 32,230 people in France that contracted the virus have died.