FBI links 'anti-feminist' activist suspected of killing judge's son with second murder
Comments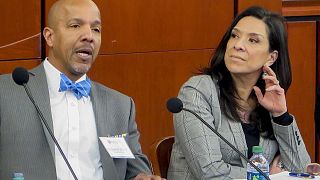 -
Federal agents in the US are investigating links between a fatal shooting at a judge's home in New Jersey and the slaying of a lawyer in California.
Roy Den Hollander, 72, is believed to have disguised himself as a FedEx delivery driver before opening fire and killing the son of Judge Esther Salas and wounding her husband at their home in New Brunswick, New Jersey.
The FBI is now working to establish a potential connection between the New Jersey shooting and the murder of lawyer Marc Angelucci, 52, who was killed earlier this month in San Bernardino, California.
The investigation is still in its early stages with federal officials working with local homicide detectives. In both cases, the suspect appeared to pose as a delivery driver.
Den Hollander was found dead on Monday in Sullivan County, New York.
Officials were seen walking out of his Manhattan apartment with boxes on Tuesday.
Den Hollander, who described himself as "anti-feminist" lawyer, gained notoriety after filing multiple lawsuits challenging what he saw as the unfair treatment of men, including unsuccessful lawsuits challenging the constitutionality of "ladies night" promotions at bars and nightclubs. He also unsuccessfully sued Columbia University in New York for providing women's studies classes.
In 2015, Den Hollander was involved in a lawsuit that was tried by Judge Salas which sought to force the US government to allow women to be included in men-only military drafts. Fellow men's rights lawyer Angelucci was also involved in similar lawsuits.
Amongst more than 2,000 pages of writings online, Den Hollander derided Salas as having traded on her Hispanic heritage to get ahead.
A package addressed to Salas was found in Den Hollander's possession, alongside information about New York Chief Judge Janet DiFiore.
In another online post, he wrote of posing as a FedEx delivery person to speak with a young girl, the same tactic apparently used in both killings.
Salas, who was in a different part of the house when her family was attacked, was nominated by President Barack Obama and confirmed in 2011.