Coronavirus: Italy records 1,402 new cases in increase from previous day
Comments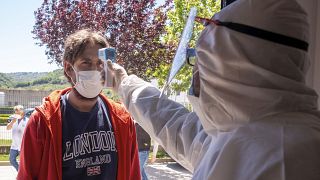 -
Copyright

Domenico Stinellis/AP
*****This is a summary of Tuesday's updates. Click here for the latest news on Wednesday.*
Coronavirus deaths decline in England and Wales including in care homes - ONS

Total number of UK fatalities from COVID-19 exceeds 37,000

Spain to quarantine visitors for two weeks

Italy to reopen bars and restaurants from next week
05.12.2020
22:37
Putin's spokesman hospitalised with coronavirus
 The Kremlin spokesman Dmitry Peskov has been hospitalized with the coronavirus.
It is the latest setback for President Vladimir Putin, as Russia tries to get a handle on the growing outbreak in the country. "Yes, I've gotten sick. I'm being treated," Peskov, a key Putin aide, told the Interfax news agency on Tuesday.
His wife, Olympic ice dancing champion Tatyana Navka, was also infected.
 
05.12.2020
21:43
ONS numbers show UK death toll above 38,000
The UK has the highest number of deaths in Europe by a margin. The government figures say over 32,000 have died, but that doesn't include those who never had a test. The Office for National Statistics refer to deaths where COVID-19 was mentioned on the death certificate, even if that wasn't necessarily the main cause of death. This figure stands at above 38,000.
05.12.2020
20:06
Cannes empty on day that would have marked opening night of film festival
Tuesday would have marked the opening night of the Cannes Film Festival.

It was instead cancelled for the first time since World War II.

The beaches are closed and the grounds have been repurposed as a homeless shelter.
05.12.2020
19:48
COVID-19 outbreaks in German slaughterhouses expose grim working conditions in meat industry
05.12.2020
19:40
France sees daily death toll increase
The daily death toll in France increased on Tuesday with 348 new deaths, up from 263 the previous day.

There were 708 newly recorded cases.

Hospitalisations in France, meanwhile, continued to decrease with 21,595 people currently in hospital and 2,542 people in intensive care units.

Around 72% of the hospitalisations are in four regions including the northern region (Hauts-de-France), eastern region (Grand Est), Paris region (Ile-de-France) and Auvergne-Rhône-Alpes.

France has had a total of 26,991 deaths due to COVID-19.
05.12.2020
19:20
Italy has 1,402 new coronavirus cases, an increase from previous day
Italy recorded 1,402 new cases of coronavirus, an increase of more than 600 cases from the previous day, but clarified that around 419 of the newly recorded cases did not occur in the past 24 hours.

Another 172 people died in 24 hours, bringing the total number to 30,911.

Officials will be carefully analysing the case numbers in Italy this week after the country relaxed lockdown restrictions on May 4.

Hospitalisations, meanwhile, continued to decrease in the country.

There are currently 952 people in intensive care and 12,865 people hospitalised with symptoms.

Another 67,449 people are in isolation without symptoms or with mild symptoms.
05.12.2020
18:41
"Action will be taken" against unscrupulous employers 
Secretary of State for Business, Energy and Industrial Strategy, Alok Sharma gave the daily UK government briefing. 
He reiterated the updated government lockdown advice, as laid out by PM Boris Johnson yesterday, which you can catch up on here:
euronews
The British prime minister's 'stay alert' message has been cricitised by politicians and members of the public and caused tension with UK nations.
Asked about the possibility of workers being told to come back to work by unscrupulous employers, without the workplace being made safe, Sharma said: "Employers have a duty to keep workers safe, and if someone feels it's unsafe, they have to take that up with the employer. And if they aren't getting any traction, they should get in touch with the Health and Safety Executive (HSE) or the local authority. 
He added guidance published sets out how to get in touch with the HSE which will "absolutely take action".
05.12.2020
18:04
UK government again misses its testing target
The UK government has released the latest coronavirus figures, with 627 new deaths in the last 24 hours.
The UK government has again failed to test 100,000 people in the last day, with just over 60,000 tests carried out. Health Secretary Matt Hancock had pledged to have 100,000 tests a day carried out by the end of April.
05.12.2020
17:25
Lebanon will reinstate a national lockdown for four days

Lebanon will go on lockdown for four more days after an increase in reported cases.
Citizens will have to stay home from Wednesday night until Monday morning, avoiding outings except for emergencies, AP reported.

Lebanon began relaxing restrictions last month. The country of more than 5 million has recorded 870 infections and 26 deaths after imposing early measures.
05.12.2020
17:22
Potential vaccines could be in advanced trials by late fall or early winter, US' Dr Fauci says


There are several vaccine candidates being worked on, Dr Anthony Fauci told a Senate committee.
"We have many candidates and hope to have many winners," Dr Fauci told the Senate Health, Education, Labor and Pension committee.
It's unknown if these vaccines will work, however.

"There's no guarantee that the vaccine is actually going to be effective," Fauci said, but he said that he was "cautiously optimistic".
Fauci, who is the US' top infectious disease expert, said he hopes to have a vaccine in advanced trials by late fall or early winter.