Coronavirus latest: Italy reports lowest daily death toll since beginning of lockdown
Comments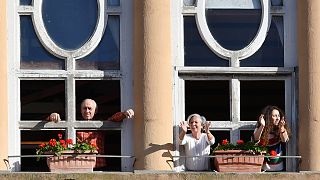 -
Coronavirus - latest summary
Follow the latest updates in our blog below.
05.03.2020
23:44
Thanks for following our live blog today. We'll be back tomorrow morning with more news on the Covid-19 pandemic. (Alessio)
05.03.2020
18:38
Italy reports lowest daily Covid-19 death toll since beginning of lockdown
Italy's authorities reported 174 people have died of coronavirus in the past 24 hours, the lowest daily death toll since the beginning of the nationwide lockdown on March 9, which is set to be eased from tomorrow.
Italy is Europe's worst hit country in terms of coronavirus-related deaths.
05.03.2020
17:51
UK reports 315 more coronavirus-related deaths as total passes 28,446
The United Kingdom recorded an additional 315 deaths from coronavirus in the past 24 hours, Minister of State Michael Gove said, bringing the total death toll to 28,446 in the country. In Europe, only Italy recorded a higher death toll, with over 28,700 casualties.
05.03.2020
16:47
Boris Johnson reveals "contigency plans" in case he died
In an interview with British newspaper The Sun On Sunday, UK prime minister Boris Johnson said doctors had "contingency plans" ready in case he died while in intensive care after contracting coronavirus.
"It was a tough old moment, I won't deny it," he told the newspaper, speaking for the first time in detail about his illness. "They had a strategy to deal with a death of Stalin-type scenario...The doctors had all sorts of arrangements for what to do if things went badly wrong".
Johnson, 55, spent three days on oxygen assistance in intensive care while being treated for COVID-19.
05.03.2020
16:19
Russia records sharp increase in new virus cases
Russia announced 10,633 new coronavirus cases today, nearly double the new cases reported a week ago.
More than half of Russia's new cases were in Moscow, where concerns are rising on whether the capital's medical facilities will be overwhelmed.
The country has so far reported more than 124,000 cases and over 1,200 coronavirus-related deaths.
05.03.2020
16:13
Pompeo: Significant evidence coronavirus comes from laboratory in Wuhan 
US Secretary of State Mike Pompeo said there was "significant evidence" that coronavirus originated from a laboratory in the Chinese city of Wuhan, the first epicentre of the pandemic.  
Pompeo made this statement on ABC, declining to comment on whether he thought the virus had been intentionally released by Beijing.
05.03.2020
15:14
'He strangled me in front of my child'
Before the COVID-19 quarantine there was already a severe shortage of centres and refuges for women in need of an escape from domestic violence. But the pandemic has only made things worse there. 
In April, La Strada-Ukraine, a phone line for victims, received 2,754 calls on domestic violence, compared to approximately 1,590 in March.
The quarantine started on 12 March, and they had 1,273 calls in February and 1,203 in January. Euronews spoke to one victim who was lucky to escape from her abusive husband alive.
05.03.2020
15:07
Rolls-Royce plans to cut up to 8,000 jobs
British firm Rolls-Royce is planning to cut up to 8,000 jobs in the wake of the collapse of air traffic. 
"The impact of Covid-19 is unprecedented. We have taken swift action to increase our cash flow, drastically reduce our expenses (...). But we will need to go further," a group spokesman said, adding that discussions were under way with the unions and that decisions on jobs should be announced by the end of May.
The famous car maker is a crucial manufacturer of aircraft engines.
05.03.2020
14:48
Spain records lowest daily deaths in seven weeks
 Spain recorded 164 deaths in 24 hours on Sunday, the lowest daily figure for almost seven weeks. 
The figures come out a day after a relaxation of confinement measures in a country that enforced some of the stricted in Europe as it tried to deal with the spiralling outbreak.
Ministry of Health figures show the total number of deaths due to the pandemic is now 25,264, making Spain the fourth in the world for deaths after the United States, Italy and the United Kingdom.
The number of deaths in the last 24 hours is the lowest since March 18, when 107 deaths were recorded.
But this figure should be interpreted with "caution" because the transmission of death figures by hospitals is traditionally slower during long weekends such as the one on 1 May, warned the director of the Health Alert Centre, Fernando Simon.
"The figures are very good and confirm the trend observed. We have to see if they are confirmed in the coming days," he said at a press conference.
 
05.03.2020
11:40
What does France's health emergency extension mean?
France has extended its state of health emergency, even as it prepares to loosen some of its coronavirus lockdown measures on May 11. 
The state of emergency, initially declared on March 22, will have new measures, to be announced on Monday, the health and interior ministers said.
However, as of May 11, shops are still scheduled to reopenand people will finally be allowed out of their homes without having to carry a self-certification.