UK Election 2019 Flash Digest: All you need to know in 90 seconds
Comments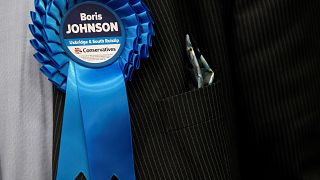 Boris Johnson's Conservatives win the election and are on course for a large majority after winning seats in northern England that had been in Labour hands for generations
With more MPs in parliament backing his EU divorce deal, it means it's highly likely Brexit will go ahead on January 31.
Labour leader Jeremy Corbyn called it a disappointing night and said he would not lead his party into another election.
But it wasn't all good news for Johnson: while it looks like he's solved the problem of one referendum, so another rears its head. The Scottish National Party were on course to win a huge majority of seats north of the border, opening up the prospect of a second referendum on independence from London.
Among their scalps in Scotland was Liberal Democrat leader Jo Swinson, who was ousted from her East Dunbartonshire constituency. It compounded a bad night for her party, who had campaigned on a ticket of a fresh vote on Brexit or cancelling it altogether. Party chairman says they will elect news leader "in the weeks ahead."