UK election: Johnson calls for 'healing to begin' after resounding victory
Comments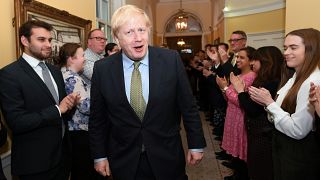 -
Copyright

Stefan Rousseau/Pool via REUTERS
Britain's newly-reelected Prime Minister Boris Johnson called on the country to "find closure and let the healing begin" after being handed the biggest Conservative majority in more than 50 years.
Speaking from Downing Street after his meeting with the Queen at Buckingham Palace, Johnson said parliament would reconvene on Monday with the ruling party now having "an overwhelming mandate" to get Brexit done.
Addressing those who had carried hope of the country not leaving the bloc, Johnson said that "we, the One Nation Conservative government will never ignore your good and positive feelings of warmth and sympathy towards the other nations of Europe."
"Now is the moment, precisely as we leave the EU, to let those natural feelings find renewed expression in building a new partnership which is one of the great projects for next year, and as we work together with the EU as friends and sovereign equals tackling climate change and terrorism, in building academic and scientific cooperation, redoubling our trade relationship," he went on.
"I urged everyone to find closure and to let the healing begin because I believe, in fact I know because I heard it loud and clear from every corner of the country that the overwhelming priority of the British people is that we should focus above all on the NHS," he added.
The Conservatives secured 365 seats — well above the 326 needed for a majority in the House of Commons — after winning seats in northern England that had been in Labour hands for generations.
They triumphed in Blyth Valley, Labour since the 1950s, before picking up the symbolic swing seat of Workington.
Labour leader Jeremy Corbyn called it a "disappointing night" and said he would step down once a successor had been appointed, leading to criticism within the party. The opposition party suffered its biggest defeat since 1935.
Liberal Democrat leader Jo Swinson, who campaigned to cancel Brexit or have a second referendum, was ousted as an MP in East Dunbartonshire triggering a new leadership contest in the party.
In an earlier speech delivered at his party's central London headquarters, Johnson had boomed: "We did it. We pulled it off, didn't we. We ended the deadlock."
"With this mandate and this majority we will at last be able to do what?" he inquired, leading the crowd of supporters to chant "Get Brexit done!"
"In this election your voice has been heard and about time too," Johnson continued. We politicians have squandered the past three years....I will put an end to all that nonsense and we will get Brexit done by the 31st of January, no ifs, no buts, no maybes."
Strong show for Scottish nationalists
But just as one referendum seemed to be heading for resolution, so another reared its head again to keep Johnson's mood in check.
The Scottish National Party enjoyed a strong resurgence north of the border, virtually wiping Labour off the map.
The SNP won 48 seats out of 55 in Scotland, boosting the case for a fresh referendum on Scottish independence.
The country rejected splitting from London in a vote five years ago, but nationalists argue Brexit means a new poll is needed.
In a speech in the early afternoon, SNP leader Nicola Sturgeon announced that she would publish "the detailed democratic case for a transfer of power to enable a referendum to be put beyond legal challenge".
She said it was "the right of the people of Scotland" to demand a new referendum following the Conservative Party's defeat north of the border.
"In an independent Scotland we will always get the governments we vote for. We will have full control of the powers and levers needed to build a truly fair and more prosperous country. We can take our place as an equal partner with our closest friends in the rest of the UK and across Europe," she added.
What happened in the key constituencies?
Scotland voted against Brexit and it showed in this election.
Lib Dem leader Jo Swinson lost her seat as representative for East Dunbartonshire, north of Glasgow, to the Scottish National party's Amy Callaghan by 149 votes.
The Conservatives were nearly wiped out in Scotland after the 2015 election but won 12 seats back last time out. This year they took a hit due to SNP gains and are down to six seats.
Incumbent Stephen Kerr had Conservatives' narrowest majority in Scotland, with just 148 votes in 2017. That was trounced by Alyn Smith of the SNP this time round who received over 50% of the vote.
And in North East Fife, where the SNP won by just two votes in 2017 went to the Lib Dems with a majority of over 1,000.
In England, there are plenty of seats where the incumbent MP appeared to grate with how the constituency voted in the Brexit referendum.
The Conservatives' ex-Brexit minister Dominic Raab defended his seat of Esher and Walton, despite them voting to remain in the EU. His majority vastly reduced, though, as Monica Harding of the Lib Dems gave a strong showing.
Labour's Laura Smith lost her 48-vote majority by a large margin to the Conservatives in Crewe and Nantwich, which backed leave. It's a similar case in Bishop Aukland that had been Labour since 1918, which also backed quitting the EU. There. the incumbent Helen Goodman got a pasting from the Conservatives' Dehenna Davison.
The Brexit Party's best hope of getting an MP into parliament was leave-voting Hartlepool, but it was held by Labour, with Brexit party chairman Richard Tice in 3rd.
Labour's Ali Milani, and for that matter Lord Buckethead, failed to unseat Boris Johnson in the north-west London constituency of Uxbridge and South Ruislip. The Conservative leader actually increased his majority.
What were the main issues?
According to a survey released in November by pollster YouGov, Brexit and the state of the National Health Service (NHS) are the most important issues for voters — similarly to in 2017.
However, while the economy had been the third-biggest issue the last time around, it has since been overshadowed by the issue of crime and shares fourth place with environmental concerns.
"In the lead up to the 2017 general election, only 8% of the British public considered it one of the top three important issues, placing it 26 percentage points behind the economy. Crucially, the environment is now tied with the economy as Britain's fourth most important issue, with 25% of Brits placing it in one of their top three," YouGov wrote.
Flagging those concerns as voters headed to the polls was Swedish teen activist Great Thunberg who wrote on Twitter that "every election is a climate election."
How did we get to this stage?
Former UK PM Theresa May and Johnson both tried to get different versions of a Brexit deal approved by MPs.
Both failed.
That was down to the Conservatives' dwindling majority and the stalemate over Brexit made a fresh election — the UK's third in just four years — inevitable.
READ MORE: UK election 2019: Where does each party stand on Brexit?
But while Brexit prompted the election, the campaigns have focused more on the National Health Service and spending pledges.