Hundreds of thousands march in London for fresh Brexit referendum
Comments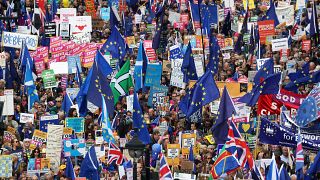 Hundreds of thousands of people took to the streets of London this Saturday to protest Boris Johnson's Brexit deal and ask for a second referendum. Among them was the mayor of London, Sadiq Khan.
"The march is to demonstrate that the 'will of the people' in the UK on Brexit is changing", Thomas Cole, a spokesman for the People's Vote campaign that organised the protest, told Euronews.
"The reality of what Brexit has become is nowhere close to what was promised by the Leave campaigns in 2016. Brexit has turned into something of a national crisis and it is the people - who started this process in 2016 - who should be allowed to end it, too".
"Boris Johnson's proposed Brexit deal breaks every promise he's made on workers' rights, environmental standards & protecting the Good Friday Agreement", the movement had written on Twitter, calling for people to join them in the streets on Saturday afternoon.
The march was the fourth protest calling for a final referendum on any Brexit deal. Previous rallies have gathered hundreds of thousands waving European flags and pro-EU slogans throughout the UK.
It comes as British MPs debated the new EU divorce deal that Boris Johnson agreed with Brussels this week.
The UK prime minister, who does not have a majority in parliament, needs around 320 of them to back him.
However instead of putting his deal up for a vote, he delayed it until next week after an amendment was passed that would require a delay to Brexit.
The amendment was put forward by Sir Oliver Letwin, which will see MPs withhold their approval of the Brexit deal until the implementing legislation is passed, namely the EU (Withdrawal Agreement) Bill.
The amendment was passed by 322 votes to 306.
It means the UK prime minister — as a result of the Benn Act — will now have to write to Donald Tusk and ask for a Brexit extension until January 31 by 11 pm on Saturday.
Read: Here's what happened in another historic day in UK Parliament