Ethiopia's prime minister wins Nobel Peace Prize for reconciliation efforts with Eritrea
Comments
By Linda Givetash and Associated Press and Reuters with NBC News World News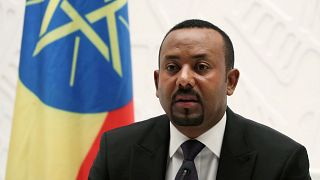 -
Ethiopian Prime Minister Abiy Ahmed was awarded the Nobel Peace Prize on Friday for his work on peace and reconciliation with neighbor Eritrea.
Ethiopia and Eritrea, longtime enemies who fought a war from 1998 to 2000, renewed relations in July 2018 after years of tension and hostility.
The prize is delivered by a five-member committee appointed by Norway's legislative assembly, unlike the four other Nobel prizes which are delivered in Sweden.
Last year, the Nobel was awarded to Denis Mukwege and Nadia Muradfor their efforts to end the use of sexual violence as a weapon in war