Watch back: Juncker refuses to rule out Brexit deal as he hits out at 'blame game' from London
Comments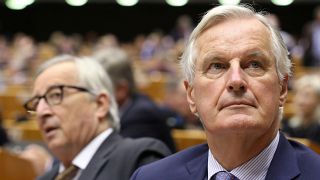 EU chief Jean-Claude Juncker refused to rule out a Brexit deal as he condemned the "blame game from London".
Speaking about preparations for next week's EU summit that is set to be dominated by Brexit, Juncker said: "I don't accept this blame game that started in London."
Juncker added: "Personally, I don't exclude a deal."
His declaration comes amid a war of words between London and Brussels over the prospect of the UK quitting the bloc without a deal.
The EU's Brexit negotiator, Michel Barnier, said that "at this particular point", the negotiating teams are "not in a position where [they] are able to find an agreement".
The British proposal put forward by the UK government last week, he added, is "not something [the EU] can accept", because it "replaces a practical, legal solution with a temporary solution".
"Brexit is creating specific serious problems, first and foremost in Ireland. What we need is operational, legally binding solutions for both parties", Barnier concluded.
The Finnish Minister for European Affairs Tytti Tuppurainen, who also spoke at the European parliament, warned MEPs that a no-deal scenario in which the Uk would "crash out" of the EU is a "dangerously realistic scenario".
You can watch Juncker's speech — and that of the EU's chief Brexit negotiator Michel Barnier — in the video player, above.