Brexit chaos: UK PM Boris Johnson set to go on attack after double defeat in parliament
Comments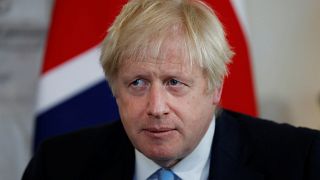 Copyright

REUTERS/Simon Dawson
Prime Minister Boris Johnson is set to go on the attack after two crushing defeats in parliament and the shock resignation of his brother.
Johnson, who lost a vote to have a snap general election on Wednesday after MPs passed legislation aimed at extending the Brexit deadline, is set to give a speech later on Thursday in which he will attack opposition leader Jeremy Corbyn over "blocking" the UK's exit from the EU.
It comes just hours after Jo Johnson, Boris' brother, quit as an MP citing an "unresolvable tension" between "family loyalty and the national interest". Jo has previously called for another Brexit referendum, while Boris favours quitting the bloc.
Jo Johnson, UK PM Boris Johnson's brother, quits as an MP
'No to no-deal Brexit': the 21 Tory rebels who defied Boris Johnson
Bitesize Brexit: A quick summary of what happened on a tumultuous day
The legislation on extending the Brexit deadline — if the government does not do a deal with the EU in the meantime — was approved by MPs on Wednesday and is being debated by the UK's upper parliament.
It is expected to pass the House of Lords by Friday evening. A fresh vote on calling a snap election is set to be put before MPs on Monday. 
No snap election
The opposition Labour Party had instructed its MPs to abstain on the vote tabled by Johnson calling for a general election.
Corbyn stated that he would back an election only after the bill to prevent a no-deal Brexit had been fully passed and gained royal assent.
European MEPs react to Johnson's defeat in parliament, step-up preparations for no-deal Brexit
Watch: How did the legislation to delay Brexit get through Parliament?
EU nationals to be granted right to stay in UK for three years in case of no-deal Brexit
"We want an election," Corbyn said in parliament. "We look forward to turfing this Government out. But the offer of an election today is like the offer of an apple to Snow White from the wicked Queen. Because what he is offering in not an apple, or even an election, but the poison of No Deal,"
Johnson riposted after the vote that "this is the first time in history that the opposition has voted to show confidence in Her Majesty's government."
"I can only speculate as to the reasons behind his hesitation, the obvious conclusion is I'm afraid that he does not think he will win."
Follow our live updates
What happened during the debate of the bill to extend Brexit?
Earlier on Wednesday, Hilary Benn, who proposed the legislation, presented it to MPs. A copy of it was published on his Twitter account.
During the debate, Benn gave way many times to cross-bench concerns, and one of the main sticking points regarding the extension of Article 50 was articulated by Dr Caroline Johnson.
The member for Sleaford and North Hykeham suggested that "if the EU came back and offered us a ten-year extension ... it would then be a choice for this house between a ten-year extension and a no-deal he wishes to avoid."
Benn rejected this notion, maintaining that parliament's view will have to be consulted.
Ex-chancellor Philip Hammond rejected claims that supporters of Benn's bill were cutting the legs of the government in negotiations with the EU "because there are no negotiations".
Meanwhile, Brexit Secretary Stephen Barclay said the bill would give the EU complete control of outcomes of the talks.
How the motion for a general election was tabled
"I don't want an election but if MPs vote tomorrow to stop negotiations and to compel another pointless delay to Brexit potentially for years then that will be the only way to resolve this," Johnson said immediately after the vote on Tuesday.
A spokesman from Johnson's office said the Tory MPs who voted in favour of the move to try and stop a no-deal Brexit will be expelled from the party. Prominent figures include Nicholas Soames, the grandson of Britain's World War Two leader Winston Churchill, and two former finance ministers - Philip Hammond and Kenneth Clarke.
Sir Oliver Letwin said the motion was being put forth because the government had not put forward any new proposals on Brexit; it had shut down parliament; it would consider a no-deal Brexit, and that no-deal would be a serious threat to the UK.
Throughout the debate, Johnson's opponents have argued that nothing can justify the risk of a 'no-deal' Brexit that would cut economic ties overnight with Britain's biggest export market and inevitably bring huge economic disruption.
Johnson cast the challenge as an attempt to force Britain to surrender to the EU just as he hopes to secure concessions on the terms of the divorce, helped by the threat to walk out without one. Ahead of the vote, he said would never accept another delay to Brexit beyond October 31.