'No to no-deal Brexit': the 21 Tory rebels who defied Boris Johnson
Comments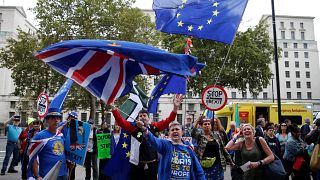 Copyright

REUTERS/Henry Nicholls

-
Boris Johnson suffered a major defeat in parliament on Tuesday after 21 lawmakers from his own Conservative Party rebelled in protest at the UK government's Brexit strategy.
The prime minister had threatened to kick the rebels out if they backed opposition efforts to prevent him taking Britain out of the European Union without a deal. His office later confirmed that they would have the whip withdrawn, in effect expelling them from the parliamentary party.
Despite the risk to their careers, they went ahead and defied the government by voting on Tuesday to take control of the parliamentary agenda — a move that paves the way for MPs to try to pass a law aimed at blocking a no-deal Brexit on October 31.
The rebels include two former chancellors, other ex-ministers, and Winston Churchill's grandson. The purge shifts the Conservative Party still further towards an absolutist stance on Brexit — but weakens the government's position in parliament, where it had already lost its majority in the House of Commons.
Johnson accuses them of sabotaging his negotiating position with the EU ahead of a crucial summit on October 17-18. The European Commission says it is still waiting for new Brexit proposals from the UK.
READ: Boris Johnson loses parliamentary majority after MP Phillip Lee defects to Lib Dems
Here are the 21 Conservatives who voted against the government on Tuesday:
Sir Oliver Letwin, MP and Conservative party veteran who has been at the forefront of efforts to prevent a no deal Brexit.
Justine Greening, who told the BBC's Today programme that said she would not stand for the party at the next election, also voted against the government.
Rory Stewart, former government minister and candidate in this summer's Tory leadership contest, who has openly opposed a no-deal Brexit.
Phillip Hammond, former chancellor (finance minister), who said he would support the attempt to extend the deadline for Britain to leave the EU by three months.
David Gauke, another former justice secretary, who wrote in the Times that he would defy the party whip for the first time in over 14 years.
Sam Gyimah, a former science minister in Theresa May's government who resigned in order to back a second referendum.
Antoinette Sandbach, a Conservative MP since 2015. She told Sky News she would vote against a no-deal Brexit this week, in the interests of her constituents in Cheshire.
Dominic Grieve, a former attorney general who has been at the forefront of attempts to stop a no-deal Brexit. He told LBC Radio: "I do with to do what's right for my country".
Caroline Nokes, a former immigration minister in Theresa May's government. She says the livelihoods of her constituents in southern England are more important than her job.
Alistair Burt, a former international development minister. He told Channel 4 News he would vote for legislation to allow parliament to determine what happens concerning a no-deal Brexit.
Guto Bebb, a defence minister in May's government who has supported a second referendum. "I will be voting this week to do everything I can to block a No Deal Brexit," he wrote in Politics Home.
Kenneth Clarke, a former chancellor and home secretary who served in Margaret Thatcher's government, and a longstanding critic of Brexit and the Conservative Party's shift to the right.
Richard Benyon, MP for Newbury in southern England who served in the British Army before entering parliament.
Stephen Hammond, MP for Wimbledon and a former health minister.
Sir Nicholas Soames, first elected to parliament in 1983 and a former armed forces minister, he is the grandson of Britain's wartime prime minister Winston Churchill.
Greg Clark, business minister in Theresa May's government who had previously warned of potential job losses in the event of a no-deal Brexit.
Anne Milton, MP for Guildford since 2005 who served in Theresa May's government. She resigned as education minister shortly before Boris Johnson won the Tory leadership contest citing concerns over a potential no-deal Brexit.
Ed Vaizey, a former culture minister under David Cameron's coalition government, he told the Guardian he felt liberated by his decision to rebel.
Richard Harrington, MP for Watford in southern England and a former business minister. He had said he would stand down at the next election.
Margot James, MP for Stourbridge since 2010 who resigned from the government in July. After the vote she tweeted to say her decision had been influenced by a Daily Telegraph report that government insiders considered a "sham" attempts to seek a renewed Brexit deal with the EU.
Steve Brine, MP for Winchester, wrote a lengthy article on his Facebook page explaining how he had tried to convince the prime minister of the need to leave the EU with a deal.
Read more:
Rebel UK lawmakers unveil bill to stop no-deal Brexit
Brexit: What might happen in the biggest parliamentary week in years?